Welcome to the Curiously Brit…(ish) island of Jersey. A place that's familiar, with a delightfully continental twist.
Jump on a short flight from over 20 UK airports, or hop on the ferry, and you could be here in time for golden hour in the sunniest spot in the British Isles.
And the good news is that you don't need a passport – photo ID will do.
If you're planning to visit Jersey from outside the UK, you'll need a passport with you to soak up the island vibes.
Your curiously continental escape.
Come up for air this autumn.
When the last of the summer rolls around, it's easy to feel a little blue. So, why not pack up your bags for an easy escape to Jersey this autumn?
Pluck juicy Jersey strawberries from roadside honesty boxes, ripened in the late-summer sun, wander through fields of wildflowers in the most southerly garden in the British Isles, soak up the curiously continental atmosphere of our al fresco piazzas and explore our breathtaking and storied landscapes where epic coastlines merge with the warm waves of the Atlantic Ocean, and enjoy life slowed down to a gentle roll.
Get inspired…
Discover places to stay, explore, eat and drink on your perfect island break.
Make a quick escape to paradise.
Last-minute holiday deals.
Embrace spontaneity and grab a hot deal for an unforgettable escape. Book a last-minute holiday offer to Jersey now, and immerse yourself in the breathtaking beauty of our island paradise. 🏝️
Let Jersey inspire you.
With local food to savour, wide open natural spaces to explore and locals full of pride and passion, whatever makes you tick, discover lots of reasons to fall in love with the island break.
Island inspiration direct to your inbox.
The latest stories, offers and events from our Curiously Brit…(ish) island.
Where is Jersey?
Travelling to Jersey from the UK
Fly to Jersey from numerous UK airports in around an hour, or hop aboard and travel by ferry from Poole or Portsmouth. An escape to the island of Jersey blends familiar English environments with a dash of European flair to create a unique experience of rich countryside and breathtaking coastal views, sweeping beaches and hidden-away bays. Start planning your island break here.
Soak up island life at Jersey events.
Whether you are a culture vulture, history buff, adrenaline junkie or just want to get your dancing shoes on; we'll keep you entertained in Jersey. Explore all the top events to enjoy on your island break.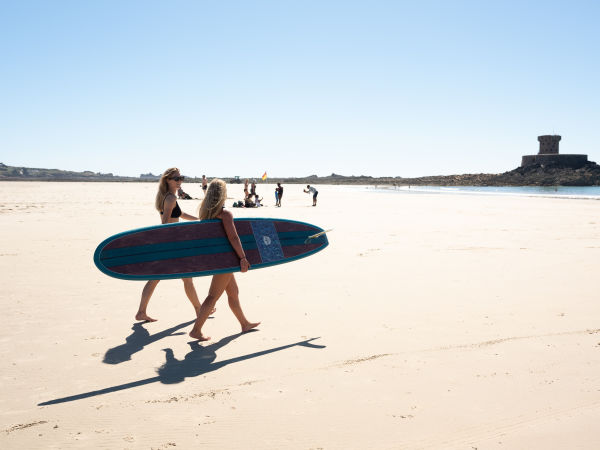 Take a sneak peek at the beautiful St. Ouen's Bay live.
Jersey Beach Cam
Discover St. Ouen's Bay on the west coast of Jersey. With miles of sand washed by rolling Atlantic waves, the magnificent St. Ouen's Bay is a natural playground for surfers and adrenaline seekers.
Explore more about visiting Jersey.
Ideas to help you discover your own island break.
Discover our island as it bursts into life this Spring.
Spring starts early here in our Curiously Brit…(ish) isle. From freshly dug Jersey Royals to soaking up the bright spring sunshine, check out the season as it bursts into life and captured in some of these fabulous snaps.
Tag your spring photos with @VisitJerseyCI or use #JerseyCI to share your pictures with us.