A curiously Brit…(ish) history.
History is very much alive in Jersey, but it's not quite 1066 and all that. Your Queen is technically our Duke of Normandy (it's a long story) and she wears a lovely tiara on our Jersey bank notes. We have ancient ruins older than Stonehenge and Ice Age mammoths in the volcanic bedrock of the island that once stretched to France. We've knitted Jersey jumpers on the backs of fishermen who sailed to the new world, sheltered Kings in exile, and we've built things older than the pyramids. And ancient castles? We've got three that we built earlier. A few centuries earlier that is and they're big enough to dwarf our epic coastline, but you get the picture. We're as British as it gets for a crown dependency.
Discover rooms with a historic view.
Make history on your island break with heritage stays that will transport you back in time to Jersey's ancient past, except with cosy modern comforts like heated towel rails. Will you check into an 18th century castle where do not disturb is taken literally? Or stay the night in a lovingly restored fort on the water's edge? Or perhaps you prefer the rustic charm of a traditional Jersey farmhouse in a leafy country manor? These are the stays that legends are made of. We have a sneaking suspicion that you'll never want to check out…
Five curiously Jersey castle experiences.
Think you know a thing or two about castles? We'll believe you after you've abseiled the sheer heights of Mont Orgueil Castle, fired a black powder cannon with a Master Gunner at Elizabeth Castle, and played detective in your search for clues on heritage trails through labyrinthine tunnels, tidal landscapes and secret chambers that uncover hidden treasures to unlock Jersey's colourful past.
Meet Jersey's oldest settlers (Hint: They weren't British).
An island shaped by its giant tides, Jersey became home to some of Europe's first Neolithic hunter gatherers, who arrived to farm the fertile soil nearly 6,000 years ago. In Jersey, you'll find some of the best-preserved prehistoric sites, dolmens and burial mounds in the world, including a building that's older than the Egyptian pyramids. Explore Jersey's ancient history at these atmospheric sites.
Blow their little socks off.
Who doesn't love their little explorers? Ignite your children's passion for Jersey's colourful history with six experiences to spark their imagination. Get lost in the ancient walls and play king of the castle at Jersey's two iconic fortresses where they can learn to fire a cannon and dress up as ancient Kings as they storm the medieval ramparts. Little and big explorers can walk the causeway at low tide in wellies, or take a high tide ferry adventure to Elizabeth Castle. Blast a foghorn, join a battalion and fire your imagination. Ancient history has a knack for making everyone feel younger at heart.
Five historic days to remember.
From the majesty of ancient castles that sheltered our island from invasion, to the mysterious secrets of underground bunkers, and Martello towers that stand tall on our dramatic coastline, Jersey wears the traces of its colourful past just about everywhere you go. Explore the incredible story of Jersey on this five day itinerary, delving into war tunnels, seeking ice age caves, and finding the echoes of the Battle of Jersey.
Don't miss these Great Brit...(ish) holiday deals.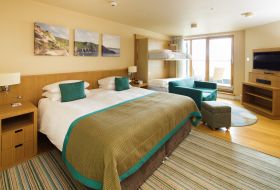 Book direct, pay in full at the time and save 20%.
Accommodation
Seymour Hotels Of Jersey
Available: 22nd Oct 2021 ‐ 31st Dec 2022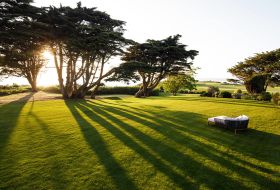 Soak up the last few days of summer with this 5 night break.
Accommodation
The Atlantic Hotel
Available: 1st Sep 2022 ‐ 30th Sep 2022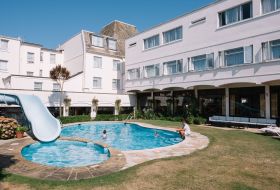 Stay a minimum of 4 nights & get 1/2 price off half board
Accommodation
JerseyTravel.com
Available: 2nd Jan 2022 ‐ 23rd Dec 2022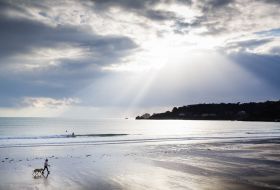 From £419pp | Flights + transfers included. Easy to book.
Accommodation
Channel Escapes
Available: 15th Jul 2022 ‐ 23rd Oct 2022
FOMO alert!
Don't miss out – sign up to our newsletter today.
Subscribe for exclusive holiday deals, hot travel tips and Brit…(ish) Holiday inspiration. By the way, we don't pester our friends, we only share the happy holiday stuff you love to hear about.
The best of Brit...(ish) experiences
Whether you're a history buff, foodie, active adventurer or all of the above, explore all the things to see and do on your island break and let Jersey inspire you.