Savour Great Brit…(ish) flavours.
Nope, there's nothing exotic around here. Just good old fashioned British fayre. If by fish and chips you mean freshly caught lobsters served with buttery Jersey Royals. To those who say we're so close to France, we're practically singing Les Marseillaise, we challenge them to try plump Jersey strawberries with clotted Jersey cream. Jersey packs a rich and colourful larder into its nine by five food miles. Peckish travellers will find farm stalls, food markets and beach restaurants bursting with unique Jersey produce, from famous Jersey Dairy to fresh oysters washed clean by the biggest tidal range in Europe. Where else in Britain can you rock up to a beachside shack in ten minutes and tuck into freshly picked crab plucked from the sea that very morning? Just pack a healthy appetite and a phone camera and you'll live snappily ever after.
Go on a food-venture in Jersey.
Just nine by five food miles, Jersey rewards the food-curious with a rich natural larder from coast to coast. We have cooked up a six-day culinary safari to give your friends maximum food envy. Stick a flake in a velvety Jersey Ice Cream with a sea view, live la vie en rosé at the most southerly vineyard in the British Isles, roll out a seafood picnic at the otherworldly Les Écréhous. There's nothing as rewarding for the food-curious as Jersey's natural larder. Just bring an appetite for adventure.
Try our local lobster.
All our lobsters are locally caught by Jersey fishermen and freshly served before you can say 'make it snappy'. This means if you're tucking into Jersey lobster, it's not had far to travel to your plate. Try these 10 top places to find Jersey lobster, served up with a warm welcome and a dose of sea air.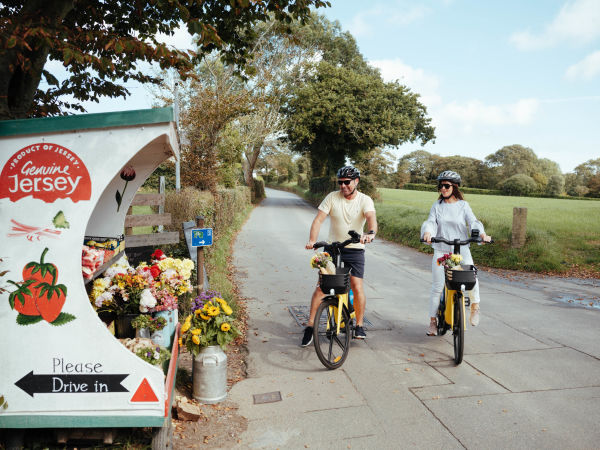 Feast on our farm-stalls.
What's more authentic than shopping at a farm where local produce was grown or reared? In Jersey, the field to fork journey is far shorter as food miles become food metres. You can pick up a real taste of the island at local farm­side stalls where you leave payment in an honesty box. Here are four farm-stalls to feast on during your island break.
Indulge in Jersey afternoon tea.
You'd expect an island famous for its dairy produce to serve up a mouth-watering and memorable afternoon tea, complete with buttery scones and lashings of cream. Jersey doesn't disappoint. Here you find plenty of traditional afternoon tea trays brimming with local produce, all served with beautiful island backdrops. Will you choose to take your tea with a cube of countryside charm or a spoonful of stunning sea views?
Dine in style in Jersey.
Jersey is brimming with delectable dining experiences and many celebrated chefs have made the island their home, so if you want to sample a taste of the top tier, you're in luck. You'll find award-winning restaurants plating up perfection, alongside an array of AA Rosette awarded eateries that aren't to be missed. In Jersey our local food miles are minimal, and our island's produce is showcased sensationally. Here are our top picks for a mouth-watering Jersey break.
Sea views to dine for.
Local catch always seems to taste better when you can see the ocean it was caught in. Breathe in the fresh sea air in the best seaside spots in Jersey that serve up fresh seafood with stunning sea views.
Don't miss these Great Brit...(ish) holiday deals.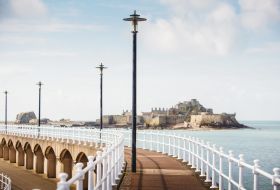 From £398pp | B&B, flights, transfers + extras. Easy to book
Holiday packages
Channel Escapes
Available: 1st Apr 2022 ‐ 28th Sep 2022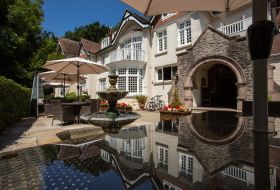 Enjoy Jersey sunshine for less with our great summer offer.
Accommodation
Chateau La Chaire
Available: 1st Jun 2022 ‐ 30th Sep 2022
FOMO alert!
Don't miss out – sign up to our newsletter today.
Subscribe for exclusive holiday deals, hot travel tips and Brit…(ish) Holiday inspiration. By the way, we don't pester our friends, we only share the happy holiday stuff you love to hear about.
The Best of Brit...(ish) Experiences
Whether you're a history buff, foodie, active adventurer or all of the above, explore all the things to see and do on your island break and let Jersey inspire you.