If you're coming to Jersey in 2023, or planning an island escape, why not book your visit to tie in with one of the many fabulous events that we have going on throughout the year? Maybe listening to laid back Ibiza beats in an ancient castle sounds like music to your ears. Or perhaps your taste buds love the idea of tucking into delicious local produce at one of our fabulous foodie festivals. Got the urge to take on a serious adventure challenge in 2023? We've got you covered there too. Whatever you're into, you'll find a Jersey event you'll love to experience in 2023.
So, without further ado, here are our top picks of Jersey events not to miss in 2023.
Discover our island's history.
Jersey is an island of pride and passion, with an incredibly rich and varied history. We've harboured kings in exile, created some of Britain's earliest art and boast not one, but three ancient castles that are big enough to dwarf our epic coastline. If you're a history buff, then you might want to time your visit to attend one of these fabulous events, celebrating key moments in our island's history.
09 May 2023
Liberation Day
During World War II, Jersey was occupied by German forces for almost five years. On 09 May 1945, the day following VE Day, an end to the hostilities in Europe, the island was liberated. Liberation Day is celebrated on the island every year with music, dancing, food stalls and performances. Centered around Liberation Square where crowds gathered in 1945 to welcome British troops and watch them triumphantly unfurl the Union Jack from the balcony of the Pomme d'Or Hotel, this is a chance to experience the joyous celebrations for yourself. With the Bank Holiday for the King's Coronation on the 08 May, why not make a weekend of it and come experience Jersey's Liberation Day too?
Delve deeper into our island's past.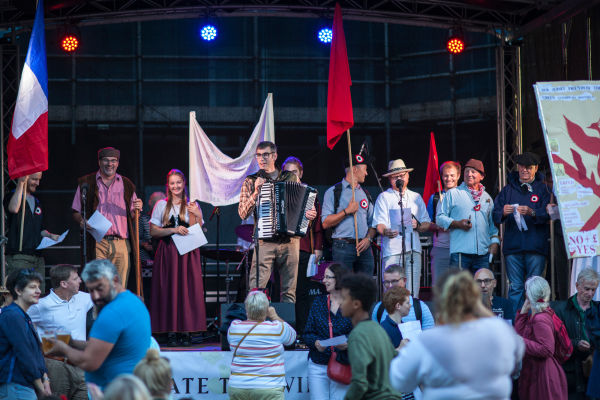 29 September - 1 October 2023
The Corn Riots Harvest Festival
The Corn Riots Harvest Festival marks the 252nd anniversary of major legislative reform that transformed society in Jersey, as a result of the Corn Riots. With film screenings, performances, workshops and food stalls celebrating Jersey's rich cultural heritage, including a focus on our traditional language Jèrriais, The Corn Riots Harvest Festival promises a weekend of fun and discovery for the whole family.  Discover more about the history of the Corn Riots here or go and check out the exhibition on show at The Jersey Museum and Gallery whilst you're on island.
Get a taste of our island's culture.
When you imagine Jersey, the first things that come to mind are probably our beautiful beaches, fabulous local restaurants and our famous historical landmarks – from WW2 bunkers to medieval castles. But our island also has a bustling cultural scene where you can immerse yourself in Jersey tradition, get involved with the creative scene and be inspired by local artists and authors.
13th Parish Film Festival - 18 - 21 May 2023
Calling all film buffs! 13th Parish Film Festival returns in May 2023, bringing an exciting mix of new international short films, documentaries, alongside works of local and regional interest.
Get involved with practical activities, talks, workshops and much more, celebrating filmmakers from Jersey and far beyond.
Battle of Flowers - 11 & 12 August 2023
The Battle of Flowers is a true Jersey institution and quite a spectacle – the perfect way to immerse yourself in all the colour of island life. The carnival parade is held over two days – a day parade and a moonlight parade – with fabulous floral floats of up to 45ft travelling along Jersey's biggest road – Victoria Avenue. An incredible amount of work goes into producing the gigantic floats, showcasing the island's community spirit at its best. Join us and get involved with all the floral fun this August!
Festival of Words - 20 - 25 September 2023
In our modern age, what greater pleasure is there than to pick up a good book, find a quiet, scenic spot, and while away the hours getting lost in another world? Here in Jersey, there are plenty of spots to do just that. Find your very own room with a view, a deserted offshore reef or cosy pub with a roaring fire. And to top it off, in September 2023, we'll be welcoming a library-full of talented authors to the island for the Jersey Festival of Words. With workshops, film-screenings, performances and author events making up the jam-packed schedule, you'll find plenty to capture the imagination at this boutique island book festival.
Genuine Jersey Simply Christmas Market - 25 November - 10 December 2023
Our island may be small, but we are big in Christmas spirit. Come to Jersey in December and you'll leave feeling the warmth of a community that loves to share the magic of the island at Christmastime. St. Helier's historic Royal Square plays host to the Genuine Jersey Simply Christmas Market. We may not be able to compete in scale and grandeur with some of Europe's sprawling Christmas markets, but here in Jersey you'll get the chance to chat to the makers and buy unique gifts directly from the artisans who have created them. 
Next:
Battle of Flowers - 11 & 12 August 2023
Tuck into our local produce.
Jersey packs a rich and colourful larder into its nine by five food miles. Peckish travellers will find farm stalls, food markets and luxury restaurants serving plates bursting with local Jersey produce, from velvety Jersey Dairy to fresh oysters washed clean by the biggest tidal range in Europe. Tuck into a host of tasty events throughout the year to get a real flavour of island life.
Taste Jersey – 28 March – 08 May
Taste Jersey is a gastronomic celebration of island flavours that is not to be missed. With unique menus from a host of Luxury Jersey Hotels kitchens, featuring as much local produce as possible, you'll be spoilt for choice wherever you decide to take your seat for dinner, so be sure to get involved.
Eat Jersey – 23 – 26 March 2023 
Renowned chefs unite for a gourmet celebration at this fabulous celebration of local food and produce at The Atlantic Hotel and Ocean Restaurant. Devour a spectacuar five course banquet produced by Will Holland and his brigade of talented chefs or tuck into dishes by Bryn Williams inspired by his two restaurants in North Wales and Primrose Hill in London. Michelle Roux Jnr will also be cooking, in collaboration with Will Holland, for one night only. This evening is already sold out but get in touch with The Atlantic in case of cancellations.
Genuine Jersey Markets – April – September  
Genuine Jersey's run of fabulous spring and summer markets kicks off in April. You'll find the regular artisans' market taking place in the pretty harbour village of St. Aubin in front of the parish hall. All goods sold by Genuine Jersey Members will have been crafted, brewed, baked or processed by the stall holder, so come along and soak up the atmosphere while celebrating Jersey's finest.
La Fais'sie D'Cidre – October 2023 (Date TBC)  
Jersey's annual cider festival brings together communities, volunteers and apple and cider experts to create a unique Jersey experience in the beautiful surroundings of Hamptonne Country Life Museum. But it's not all about the cider – there's also live music, entertainers, creative activities, dance, artisan sellers, fantastic local food. So, come along and experience a real taste of island life during the autumn.
Black Butter Making – 5 -7 October 2023 
Get stuck into the ancient art of making black butter, a delicious preserve made using Jersey apples and fresh cider and spices, which takes place annually at The Elms, the headquarters of the National Trust for Jersey. Jersey black butter or 'Le Niere Buerre' is a very old and traditional farm-house delicacy of Jersey made from a proliferation of apples which are peeled, cored and cooked down with black treacle, liquorice, cider, brown sugar and spices.
Enjoy the ultimate summer playlist.
Summer in Jersey is all about good vibes, with a dose of sun, sea and fresh sounds.  Step into the futuristic world of Wonky Town or dance the night away with friends at The Weekender. Want to get summer ready? Easy. Just grab your backpack, your best friends and go.
Lib in the Square - 06 & 07 May 2023
Two days of world-class electronic music coming to you from one of the island's most historic locations!  As we maintain the memories of the difficult times during the occupation and celebrate our freedoms of our Liberation day.
Krafty J's Festival - 26 - 28 May 2023
Join this unique three-day extravaganza, showcasing Krafty brews and a variety of music from local artists across multiple genres and much more.
Sunset Concerts - 16 -17 June 2023
If you'd like to enjoy our beautiful landscapes in a more leisurely fashion, then you'll love the idea of The National Trust for Jersey's Sunset Concerts. Enjoy midsummer musical delights in the gorgeous natural setting of Mont Grantez headland, overlooking St. Ouen's Bay. Bring a picnic and while away the evening listening to live music as the sun goes down over Jersey's Atlantic coast. It's the ultimate way to experience Jersey at this special time of year.
Good Vibrations Surf Festival - 24 & 25 June 2023
Designed to tackle the stigma of mental health, Good Vibrations is a festival where people from all walks of life can get together and feel part of the community. Head down to the Watersplash to join in the good vibes with an all-day 80's themed surf festival, hosted in aid of Mind Jersey.
Out-There Festival - 01 & 02 July 2023
Returning in 2023 for it's fifth instalment, Out-There Festival is an unmissable all-day dance event, hosted in one of the most unique destinations on island, the "Valley of the Unknown". Dance the weekend away on the outskirts of nowhere at Val de la Mare in St. Ouen. Out-There has welcomed some of the industry's greatest including Fisher, Basement Jaxx,  Purple Disco Machine, Chase and Status and the list goes on! If house or drum and bass gets you grooving, this 2-day Summer event is for you.
Weekender- 02 & 03 September 2023
Two days, five stages, hundreds of artists, all set in the island break, bringing you a truly individual festival experience. The iconic summer festival will welcome the likes of John Newman, KSI, Sigala, Jax Jones and the Jacksons to the main stage at the two-day Weekender Festival.
Next:
Krafty J's Festival - 26 - 28 May 2023
Embark on an island adventure.
In Jersey, the great outdoors and adventure run in our veins which is why it's unsurprising that we have a calendar full of events that make the most of our epic outdoor landscapes. Blow away the cobwebs and take your adventure holiday to the next level by signing up to one of Jersey's top challenges.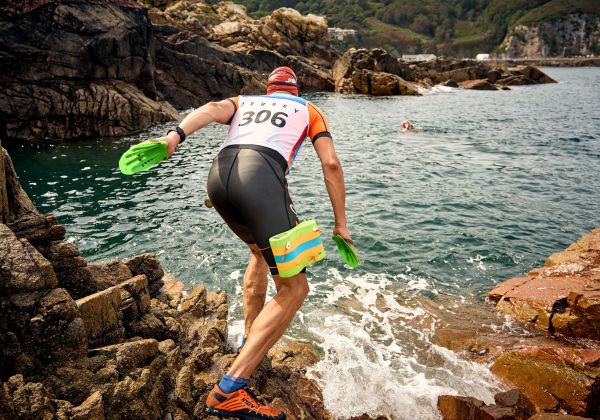 Swim Run Jersey - 09 September 2023
Take on Jersey's dramatic coastline at this unique Swimrun event where you'll swim across the island's iconic bays and traverse its undulating coastal paths. Find your adventure buddy, and race around a constantly changing course created by the island's giant 40ft tides – some of the largest in the world. Teamwork is essential for pairs to overcome our swirling ocean waters and technical rocky transitions. Are you ready to take on the challenge? Then sign up for this epic challenge now.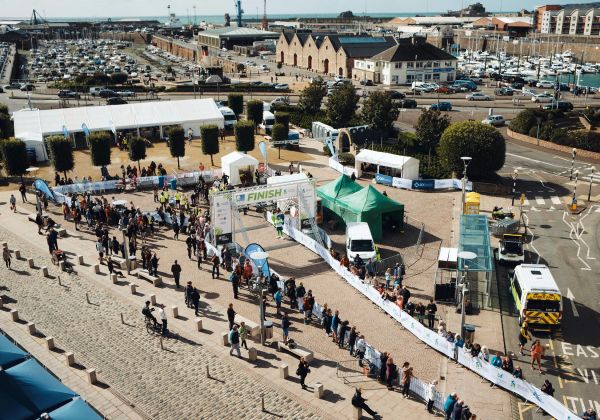 The Jersey Marathon - 01 October 2023
If you're looking for a change of scene for your next marathon, then why not consider Jersey? A recent runner called The Jersey Marathon 'a small race, with a very big atmosphere', and we think that sounds exactly right. On this scenic marathon route, you'll pass golden, sandy beaches, historic castles and run through pretty green lanes. You'll finish at the Weighbridge in the heart of St. Helier where you'll be greeted with a thunderous reception from the crowds that gather to show their support.
Accuro Jersey Triathalon – 17 June 2023
Sign up for the Accuro Jersey Triathalon and begin your training to take part in the most southerly triathalon in the British Isles. Now in its eighth year, the focus for this fun, community led events is on fun, friendship and helping one another achieve personal goals.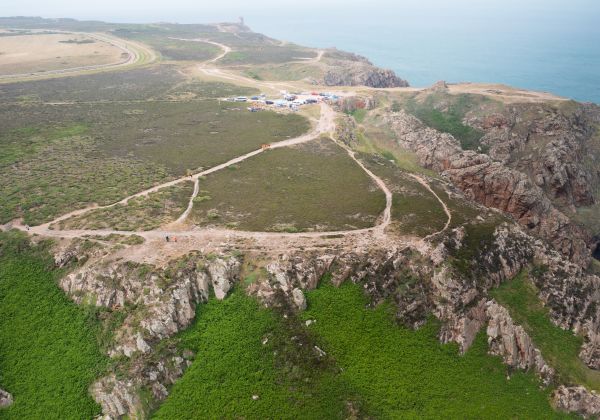 The Island Walk - 17 June 2023
Not for the faint-hearted, but about as rewarding a challenge as you could take on, The Island Walk is a legendary event that tests the stamina of locals and visitors alike. The 48.1 mile walk takes you along Jersey's epic, undulating coastline, traversing sandy beaches, dramatic cliffs and gorgeous green countryside. If a gruelling but beautiful challenge sounds like something you'd enjoy, then The Island Walk could be for you! If you don't fancy taking on the full distance, there is also a 13 mile route and a relay option.
Want to set your own challenge?
Enjoy island walking at your own pace.
You might also like...