Miles of unspoilt coastline, beaches to take your breath away and clear blue sea, make Jersey a dream destination for surfers, sea swimmers, kayakers, paddle boarders and anyone else who loves being in the sea. With one of the largest tidal ranges in the world, conditions at the coast and beach can change rapidly, so it's good to know some water safety basics before taking the plunge.
Sea kayaking.
Hiring a sit-on-top kayak from Absolute Adventures in St. Brelade's Bay is a quintessential Jersey activity, and a rather dreamy way to while away an afternoon. The experienced staff will be able to offer advice to anyone hiring kayaks, but in general, stay in the bay and avoid going around headlands because that's where the water is rough and moves fast. If you feel unsure at all, you can book a kayaking tour with one of the licenced companies on the island. If you're bringing your own kayak to Jersey and are a more experienced sea paddler, you might want to get in touch with the Jersey Canoe Club. They'll be happy to offer advice and guidance on the best sea kayaking spots around the island.
Sea swimming.
Because the island is almost square, there will almost always be a sheltered beach to take a dip – so check the wind direction on the day and pick your beach accordingly. Don't swim alone and if you're ever unsure, look for the gang of locals gathered in their Dry Robes who will be happy to give you advice on sea swimming safety. It's also worth remembering that the sea temperature is still cold early in the season. So know your limits and never try and stay in for too long.
Surfing.
St. Ouen's Bay is a world-class surfing destination and there are a number of surf schools dotted along the length of the beach that will be able to offer board hire and lessons if you need them. If you've brought your own board, take advice from the lifeguards and check out the Jersey Surf Report for detailed information on the conditions. There are safe surfing areas which are watched in the summer, and lifeguards will be able to offer advice on riptides and currents.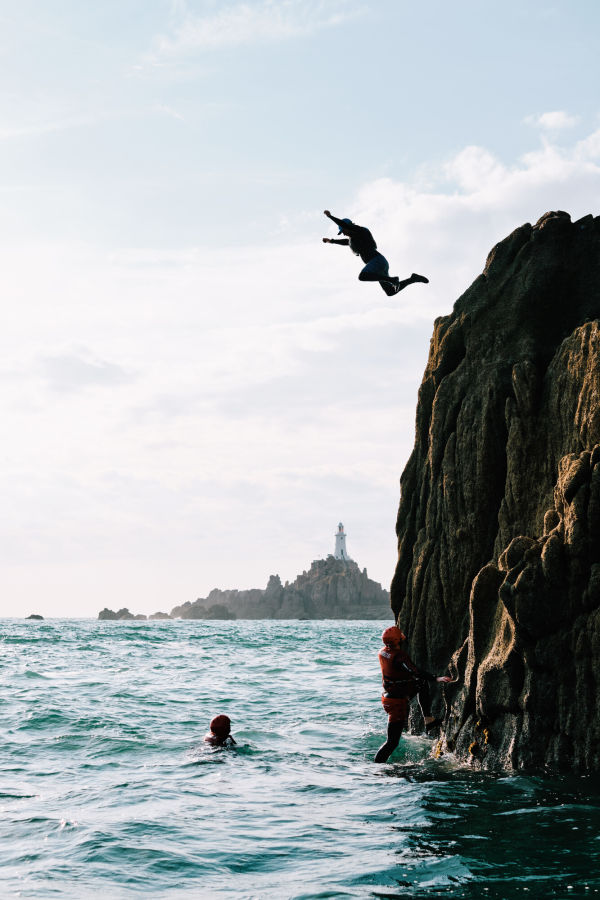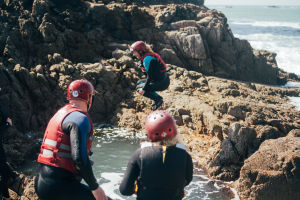 Coasteering.
If your idea of a good time is throwing yourself off the cliffs into the glassy waters below, then the coast around Jersey is a veritable playground for you. Coasteering should always be undertaken with a group who will be able to guide you and keep you safe and there are a number of companies on the island who will be able to take you out.
Paddleboarding.
Floating around a crystal clear bay on a paddleboard should be on your Jersey bucket list but it's important to take precautions. It might look easy, but there are hidden dangers with any watersports. When you hire a board in St. Brelade's Bay you'll be given instructions about where to go, and always stick to the advice. You need to be cautious about off-shore winds because it's easy to drift offshore and then find it difficult to paddle back in against the wind. As with any watersports, check the weather on the day and always take local advice.
Jersey's tides.
Jersey has one of the biggest tidal ranges in the world – at high tide, some beaches disappear completely and at low tide, the island nearly doubles in size and a natural playground is revealed. When you're planning any type of water sports in Jersey, always check the tides. Neap tides are smaller tides that occur every other week when high tide is around lunchtime, making it the perfect time for watersports. During Spring tides, high water is early morning and early evening with much more water movement so you need to be a lot more careful if you're venturing offshore.
5 facts about water safety.
Don't swim alone.
When kayaking or paddle boarding, stick to the bay and avoid going around the headlands, unless you're with an experienced guide.
Check the weather and sea state before you take the plunge.
If you're ever unsure about getting in the water, choose a lifeguarded beach, and follow their instructions (only swim between the red and yellow flags).
Jersey has the third largest tidal range in the world, so be sure to check the tide before you embark on any water sports and activities.
You might also like...