Jersey's military history has threaded its way through all periods and has shaped Jersey into what we see today. Our island is very unique. In Jersey you can find a military history spanning more than 3000 years, right up to the 20th century in just a few square miles. So why not explore it at your own pace.  Here are a few sites to keep an eye out for as you unearth Jersey's fascinating past.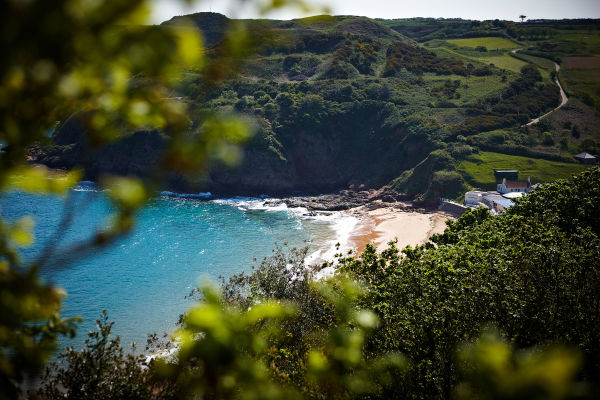 Grève de Lecq.
Overview.
Arrive in this picturesque small north coast bay by coming down a Napoleonic War military road and find another place with a military history from most eras. Least known is that the conical hill on the east is an Iron Age defensive fort going back 2500 years. There's also an 18th century fort and Jersey Round Tower, plus barracks for 250 men who would have manned and guarded the area. During the Occupation, the Germans feared an allied landing on the sandy beach, and there is a gun casement bunker at either end.
Parking.
There are plenty of parking areas to choose from at Grève de Lecq. All within a few seconds walk of the beach.
Buses.
Route No. 9 and 12 take you from St. Helier to Grève de Lecq.
Le Câtel de Rozel.
Overview.
A Bronze Age (c.1000BC) promontory fort ("câtel") on the headland above Rozel Harbour and one of the earliest sites in Jersey's military history. In an age when Jersey was vulnerable to attack by any passing force seeking plunder, it is evidence of early organisation by islanders to defend themselves. Behind the five metre high banks, they collectively had a chance of fighting off invaders. When on the headland, go through the gap in the high bank and from there, imagine yourself as an invader trying to scale it facing a barrage of spears and arrows.
Parking.
Parking can be difficult in Rozel Bay, especially in the summer. There are several spaces along the pier or on Le Mont du Rozel, just a few minutes walk from the beach. Either walking or taking the bus can be the easiest way to explore this area.
Buses.
Route No. 3 takes you from St. Helier to Rozel Bay.
Gorey.
Overview.
With iconic Mont Orgueil Castle dominating the area, Gorey probably has more than 4000 years of military history right up to the 20th century. The castle was the site of a Neolithic settlement, a defensive promontory fort, a medieval castle, before being converted into a Tudor artillery fortress. Within easy view from France, it would have taunted the French throughout the many wars. They tried to capture it by siege and battle many times but never succeeded. Look up at the castle and try to spot the "camouflaged" German additions from WWII.
Parking.
There are a number of places to park. One of the easiest is Longbeach car park. This gives you the chance to take a relaxing walk along the beach or walk way into Gorey. It's a great way to take in the scale and view of the castle. Other parking is available along the main road or on the hill that winds its way up to the back of the castle.
Buses.
Route No. 1, 1a and 2 take you from St. Helier to Gorey Harbour.
La Rocque.
Overview.
At low tide at La Rocque, the rocky landscape is the remnant of the land which connected the island to France 8000 years ago. With later higher sea levels, it was thought that those rocks were an ample defence to any French landing. In 1781, the French proved this wrong, landed their forces and had it not been for a young English Major and the Battle of Jersey, we might now be speaking French. Keep an eye out for Seymour and Icho Towers built after that scare of 1781. Also look for the plaque on the slipway commemorating the first three deaths from the German attack on Jersey on 28 June 1940.
Parking.
There is parking at La Rocque Harbour however there are limited spaces.
Buses.
Route No. 1 takes you from St. Helier to La Rocque Harbour.
Grosnez.
Overview.
With probably the best views anywhere in the Island of the Normandy coast and the other Channel Islands, Grosnez holds many mysteries. The ruined castle probably had a very short life in the 14th and 15th centuries. It was no match in size compared to Mont Orgueil Castle and it was captured several times during the Hundred Years' War. Despite its large size, its weakness was its lack of well. However, being in the heartland of the leading Royalist Jersey family, the De Carterets, it may have had another purpose to fool passing ships into thinking it was stronger than it was.
Parking.
There is a public car park next to the castle ruin itself. The north coast is the ideal place to explore by foot. Caution is needed on some of the steep cliff paths.
Buses.
Route No. 8 and 9 takes you from St. Helier to Les Landes where you can walk from the main road down to the castle ruin.
St. Aubin's Bay.
Overview.
St. Aubin's Bay is the nearest thing to a natural harbour that the island has, and as both St. Helier and St. Aubin grew, so did the need for defence. The bay is guarded by 16th century St. Aubin's Fort and Elizabeth Castle at opposite ends, both later updated and adopted as German "strongpoints". Unsurprisingly, battles here were quite common. Of those we know about, the battle in 1406 was a French victory. In 1651, Parliamentarians were victorious over Royalists in the English Civil War. 1781 saw the French attack and then withdraw, bloodied but not completely beaten. In WWII there were numerous attacks by the RAF on German ships resulting in losses on both sides.
Parking.
There are plenty of parking areas to choose from in St. Aubin's Bay. There are public car parks in the heart of the old harbour. All of which are within a few seconds walk of the beach.
Buses.
Route No. 12, 12a, 14 and 15 take you from St. Helier to St. Aubin's old harbour.
La Corbière.
Overview.
Home to the iconic Corbière Lighthouse, this corner of the island did not warrant any defences other than the natural rocky shore until WWII. As part of the beach defences built by the Germans, it became "Strongpoint Corbière" and the area bristled with bunkers and other defensive positions. Many bunkers can be seen at ground level, but what is surprising is the sheer scale of what cannot be seen below, as well as the fact that most of the headland would have been surrounded in barbed wire and heavily mined. Fortunately, these defences never had to be tested for real before Liberation in 1945.
Parking.
There is parking at Corbière allowing you to explore further on foot and also sample some Jersey ice cream.
Buses.
Route No. 12, 12a and 22 take you from St. Helier to Corbière.
Step back in time on a historical tour of Jersey.
You might also like...