Islands, by definition, tend to have great seafood. But that's just the beginning. Great island memories happen everywhere, from humble beach shacks to star-studded restaurants serving up sea views. Jersey's beach cafes and casual restaurants are as laid back as the surf culture.
Tuck into feasts to revive your mind, body and soul.
These beachside eateries come with an added side of vitamin sea!
Archirondel's pretty pebbly beach is home to the popular Driftwood Café with its Martello Tower views. For early risers it's the perfect spot to watch the sunrise.
With standout views of St. Ouen's Bay, El Tico Beach Cantina is sure to put a spring back in your step after a big night. Long tables and benches create a chilled friendly vibe, the perfect venue for sharing good times with friends and family.
It doesn't get much better than brunch at the Hungry Man kiosk overlooking the boats at the picturesque harbour village of Rozel. A proper mug of tea and a bacon roll in the fresh sea air will always blow away the cobwebs.
Enjoy panoramic views of St. Ouen's Bay from the Line Up beach hut – a favourite with locals. Watch the surfers and kite boarders in action as you refuel for your own adventures.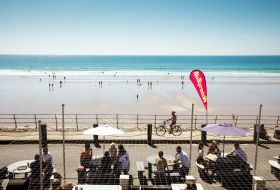 Come and join us for a cool drink or a delicious meal, and enjoy the magnificent views over St. Ouen's Bay from the terrace of our iconic beach bar. For more than 50 years 'The Splash' has been the home of surfing on the island - this is reflected in the relaxed atmosphere and menu that truly offers something for everyone.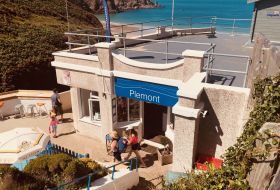 A family run business, very popular with both locals and visitors. The café prides itself on using Genuine Jersey produce whenever possible. It boasts incredible views and fabulous food. Located right at the forefront of the beautiful Plémont Bay.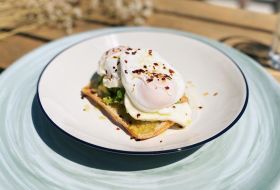 The perfect location to enjoy our award-winning beach breakfast and pancakes as well as vegan and vegetarian options and a new children's menu, whilst taking in the beautiful surroundings by the sea on Havre des Pas promenade. Fresh, simple, loving food
Discover more ways to fill your Jersey getaway with light and laughter.
You might also like...