If you go down to the woods today in the island break, you're in for a wonderful surprise. Jersey's not all about beaches and bays. Step inside the island's rural heart on your island break and you'll be rewarded with golden and green landscapes and woodland valley walks, rich in nature's colours and wildlife.  Here are a few of our suggestions to get you started on a woodland adventure.
St. Catherine's Woods.
A wild, enchanting spot in the east of the island, explore woodland paths fringed by mature trees and look out for red squirrels, woodpeckers and treecreepers. Wander past mature trees, hop across stepping stones over woodland streams and play on the rope swings. There's lots to explore in St. Catherine's Woods – then you'll need somewhere to stop for a drink after you've finished trekking. Our recommendation? The Breakwater Café or The 3 Arches at St. Catherine's Breakwater are close enough to reward yourself with a stunning sea view and a delicious Jersey Dairy ice cream.
Val de la Mare Reservoir.
Jersey's largest reservoir is a peaceful getaway, fringed with autumn colour from September onwards. Walk the full circuit for sweeping bay vistas and calm waterside views – the full route is nearly three miles and is popular with locals and visitors. Spot owl nesting boxes on your way around the reservoir, and other species of birds and wildlife. But to really experience the full woodland atmosphere, head to the arboretum at the top of the reservoir – the forgotten forest and enjoy a magical walk.
The Forgotten Forest.
If you love discovering rare tree species, then make sure the arboretum at Val de la Mare Reservoir is on your list. A leafy enclave of unusual species from around the world, the Forgotten Forest is a magical place to see the island's woodland colours for yourself. Don't miss it. Access the arboretum from the car park at the top of Val de la Mare Reservoir and continue walking around the reservoir for sweeping views across St. Ouen's Bay.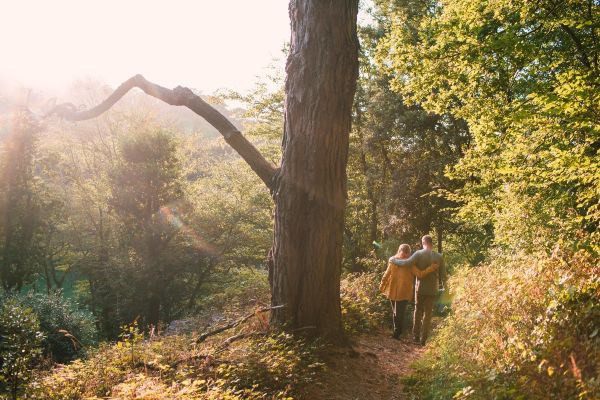 St. Peter's Valley.
Winding along the island's central backbone, you'll find rich wildlife in this relatively young and sheltered woodland valley. Follow the rolling footpaths to see the colours of oak, sweet chestnut, beech, ash and sycamore turn reddish golden in the autumn sunlight. It's also somewhere you'll see Jersey's native red squirrel. Looking for somewhere to stop? Café @ The War Tunnels is nearby, serving great homemade cakes. And don't miss visiting the Jersey War Tunnels during your stay – it's a poignant reminder of wartime sacrifice – stroll through the garden of reflection for a truly thought-provoking experience.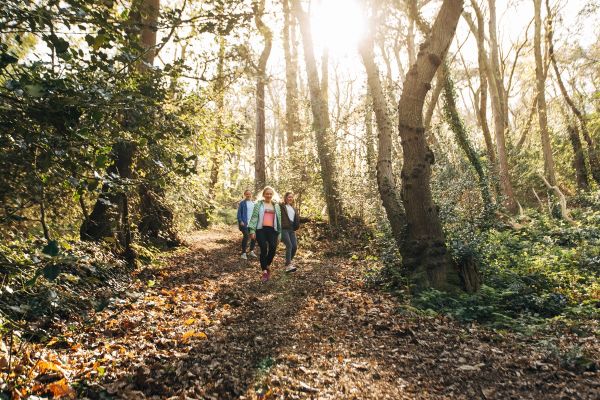 Egypt Woods.
You won't find pyramids and sphinxes in these woodlands, but you won't be disappointed with what you uncover on a wander through the trees of Jersey's Egypt Woods. Start your walk at either Jardin D'Olivet and set out on an exploration that will take you through a steep, wooded, coastal valley passing mysterious follies and sedate streams. When you reach the bottom of the valley, you'll find the ominously named, Wolf's Lair. Don't worry though, there's no ravenous beast lurking inside. This quaint cottage was once a Napoleonic guard house. Next to the 'lair', you'll find a memorial to an ill-fated WW2 mission. Read the plaque to unfold a tale of the daring during one the island's darkest times.
The Railway Walk.
The tucked away Railway Walk harks back to when Jersey had its very own railway system. It's a peaceful and a popular route, is set back from roads and is tree lined. The gentle path heads towards the majestic La Corbière Lighthouse on Jersey's south western tip. You can be adventurous and head off the path into the woodlands at any point or spin on the spot and head back to St. Aubin's Village. Keep an eye out for red squirrels in the trees that line the path and soak up the peace and serenity of this ambling trail. If you need to top up your tank along the way, stop by the charming Off The Rails Café for a slice of wood fired pizza or tapas. There are also restaurants aplenty in St. Aubin's Village in which to relax and refresh. Don't miss out on the Jersey ice cream from Mark Bratley's kiosk at La Corbière.
You might also like...