What better way to reconnect with family, friends, and the natural world, than to catch first light and follow the arch of the sun in the sky along Jersey's unspoilt coast? Bookend your day by watching the sun as it sinks into the sea over St. Ouen's Bay.
Here's our guide to the five walks to discover Jersey from dawn until dusk.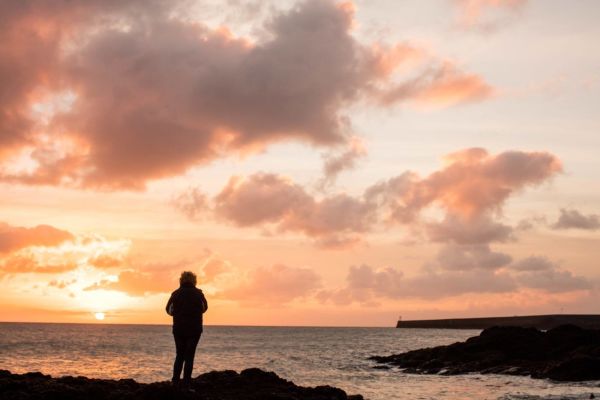 1. Start the day at Fliquet.
For those early birds, there's nothing more revitalising than seeing a Jersey sunrise. Located in the eastern corner of Jersey's coastline, enjoy panoramic views from Fliquet Bay just north of St. Catherine's Breakwater. A tranquil and picturesque bay, on a clear day it is possible to see France.
For those up for a taste of adventure, with the sea on your doorstep, stay overnight at the iconic Archirondel Tower which provides a perfect base from which to explore the island's eastern side. Just don't forget your flask of tea for your early morning cuppa!
2. A mid-morning meander at Rozel.
After your early start, it's time for a slap-up brunch to really get the day going. Grab a fully loaded roll from the Hungry Man kiosk on Rozel pier and enjoy a gentle stroll in this quiet fishing harbour and sheltered beach.
If you're feeling the need to stretch your legs a little more thoroughly, head up to White Rock carpark and take on the cliff path heading towards Bouley Bay – a wonderful out-and-back walk that will get your heart racing as the path undulates along Jersey's spectacular coastline.
3. A lunchtime stroll at Grève de Lecq.
As the sun makes its way across the sky overhead, you too should venture westward. Your next stop is Grève de Lecq with its distinctive orange sands and cliff encircled bay. Take a stroll up to Le Câtel Fort overlooking the bay, an 18th century guardhouse built to defend the island from the French. Today, it's cared for by the National Trust for Jersey and if you're up for an adventure, you can base yourself here during your stay – a truly historic experience.
If you need to refuel after your walk, head to Colleen's Café for a bite to eat before following the sun to your next destination.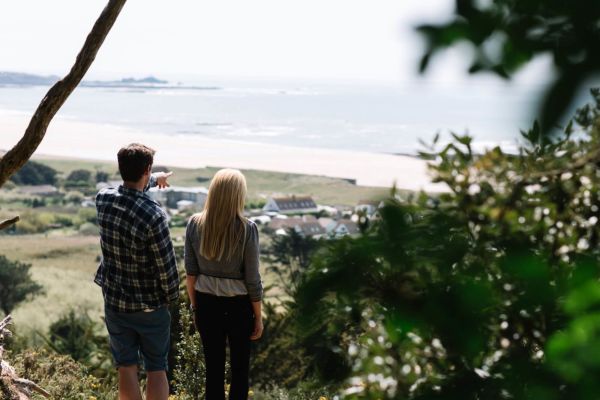 4. Wander in history at Mont Grantez.
Explore Jersey's ancient history as you walk amongst the megalithic Dolmen de Monts of Grantez, in Jersey's north west. From its high vantage point, explore the maritime grass heathland and the wealth of wildlife who live on the site, and watch the sun set across St. Ouen's Bay.
Listen out for the kestrels calling goodnight. Don't miss the annual Sunset Concerts held on the fourth weekend of June. Picnickers and revellers dance to the harmonic sounds of local bands performing in the beautiful natural amphitheatre of Grantez.
5. End the day at La Saline.
Nestled in the north of St. Ouen's Bay, you'll discover one of Jersey's hidden gems – La Saline. Walk the breadth of the five-mile beach feeling the sand beneath your feet. Watch surfers catch the last waves of the day before the sun disappears into the Atlantic Ocean. Set yourself up for the evening with a BBQ and a bottle of wine. Make like a local and head down to Faulkner Fisheries only a short distance from L'Etacq. Take your pick from the latest catch and keep it simple with a baguette and some delicious Jersey butter. Just remember a blanket to snuggle under!
What a day!
Time to rest your head and look forward to all the adventures you will have during the next rotation of our little blue planet.
Stride out in Jersey with walking events.
There are currently no posts for this section.
You might also like...