Jersey, an island shaped by the sea where some of the most astonishing tides in the world circle the coast and feed the land. Our food is as fresh as the sea air. From field to fork in the time it takes for the tide to rise. Tuck into a serving of island life, where friendships are nourished, and moments are savoured. Visit Jersey and experience the island's rich natural larder. Just bring a healthy appetite.
Highlights
Foraging on the wild west coast.
Exploring the lunar landscape where Jersey Oysters grow.
Wine tasting at a local vineyard.
A seafood picnic on the otherworldly Les Ecréhous.
World famous Jersey Dairy Ice Cream with a view.
Overview.
Start your island break off right with a luxurious hotel stay at The Club Hotel & Spa, home to a Michelin star restaurant and Cocktail Rooftop Garden. Then venture out for a Seafood Seafari where you picnic at Les Ecréhous with a delicious seafood picnic catered from famous local hot spot, Suma's. Finish your day off on the west coast with dinner at El Tico's where you can watch the waves and the sunset with a plate full of mouthwatering local food.
Stops: Three.
Transport: Boat | Walking | Driving.
---
1. Stay at The Club Hotel & Spa.
The Club Hotel & Spa is a stylish boutique luxury hotel, home to a coveted Michelin Star restaurant. After check-in: tuck-in to the famous tasting menu, packed with local produce. The Cocktail Roof Garden above Bohemia grows many of the herbs and mints used in the Bohemia Bar cocktails and their Gin Honesty Bar is a load of fun for a late night resident's tipple.
2. Seafood Seafari.
For a truly unique foodie experience, take to the waves for a Royal Seafood Seafari. Seafaris are a local company who specialise in RIB boat adventures – they also claim a 40% likelihood of spotting dolphins! Zip through the waves to Les Ecréhous, small islands six miles off the coast of Jersey with an otherworldly feel. The Royal Seafood Seafari features a luxury seafood picnic designed by Suma's, a local restaurant with a brilliant reputation for seafood. Local wine supplier Love Wine have carefully chosen the wines to pair with your picnic for that extra little luxury. A foodie treat like no other.
3. Sunset on the west coast.
Head out west to watch the sunset. We promise you will feel a world away from home. Watch the waves roll in as the sun dips beyond the horizon at El Tico Beach Cantina. El Tico overlooks St. Ouen's Bay and serves great food including local Moules made with rich Jersey Cream, served with a local "Stinky Bay" ale and a side order of stunning sunset.
Beach BBQ to Michelin Star.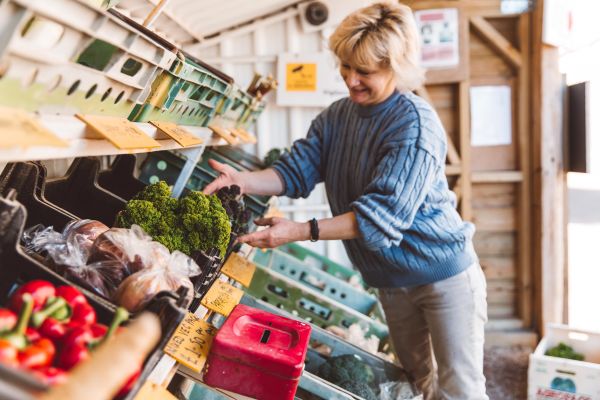 Overview.
Get up close and personal with one of Jersey's best known icons, our lovely dairy cows! Tour Woodside Farm and take away some grilled goods for a beach BBQ. Afterwards enjoy afternoon tea at Château La Chaire Hotel near Rozel Bay. Unwind over a gourmet dinner at Bohemia, Jersey's own Michelin Star restaurant.
Stops: Three.
Transport: Driving | Walking.
---
1. Local grills for your beach BBQ.
Without a doubt, the Jersey Cow is one of Jersey's most iconic characters. These doe-eyed, charming creatures can be spotted grazing in luscious fields as you take a tour of our beautiful island. If you want to get up close and personal, visit Woodside Farm, a working dairy farm where you can pick up something to grill on your beach BBQ from Woodland Farm Butchers. At the gateway to the farm you'll find The Potato Shack cafè which serves incredible local and seasonal dishes.
2. Afternoon Tea and Jersey Cream.
Continue to celebrate the Jersey Cow with Afternoon Tea and lashings of our finest Jersey Cream. Château La Chaire Hotel is your next stop; a Grade II listed country house hotel with a secluded terrace, set on the cliffs of a green valley. You will feel away from it all as soon as you arrive, before treating yourself to a gorgeous three-tiered Champagne afternoon tea.
After your afternoon tea, wander down the lane to Rozel Bay, a secluded fishing port sheltered by green hills featuring dinky little beach huts. Low tide reveals beautiful white sand with tiny fishing boats stranded on its banks. Stunning.
Build up an appetite for dinner, or work off that afternoon tea, with a self-guided walk from Rozel to St. Catherine's Bay along the coastal path. The walk is just over two miles and the scenery is stunning.
3. Gourmet Gold Dust.
A foodie gem, The Club Hotel & Spa's restaurant "Bohemia" has held a Michelin star for over 17 years and has been described as "Gourmet Gold Dust". Bohemia's Chef's table, situated in the kitchen, undoubtedly hosts the best seats in the house and boasts an immersive experience of a Michelin Star kitchen. Three tasting menus are on offer, including a vegetarian and pescatarian tasting menu, Chef Callum Graham, a former Master Chef the Professionals contestant delivers local delicacies such as slow cooked turbot, Jersey oysters and a quirky ice cream cart pre-dessert. Fabulous; so book in advance.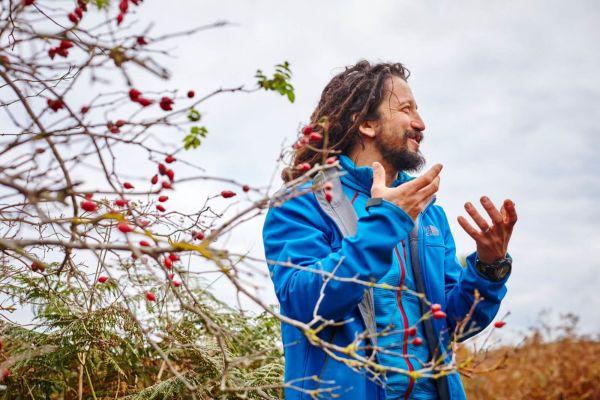 Overview.
So many tours, so little time. We have a huge variety of events and tours for you to choose from during your visit to Jersey, which allow you to experience the island's beauty and understand our heritage. Local Guides tell the story of Islanders foraging for food during the occupation and will show you the wild delicacies the Jersey environment has to offer. Miles of sandy beaches surround our crystal clear waters which is home to one of the rarest seafood delicacies in the world – the ormer.
Stops: Four.
Transport: Driving | Walking.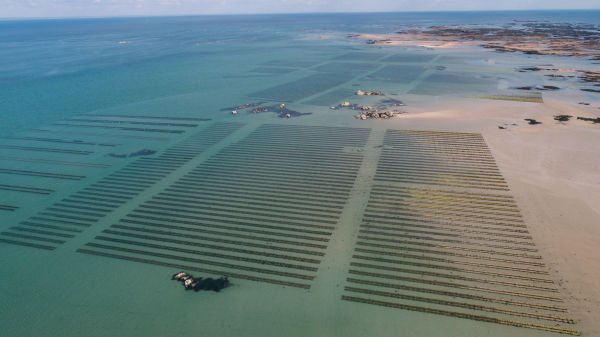 Overview.
A long lie in and breakfast in bed is a good way to start the day, before heading out on a 'Flavours of Jersey' foodie tour with Jersey Uncovered.
Stops: One.
Transport: Walking.
---
Foodie flavours tour.
Learn how and where the Island's food and drink is produced on a Jersey Uncovered tour. The "Flavours of Jersey" tour is hosted by the knowledgeable and passionate Jersey Uncovered team who will take you on a tour reflective of the season, which may incorporate the most fabulous Jersey "Farm" "Grape, Apple and Grain" or "Sea" experiences.
The "Farm" experience involves dipping behind the scenes of a local, family-run dairy farm, where creamy Jersey milk is transformed into a number of yummy dairy products, all available to taste in the farm shop café.
The "Grape, Apple and Grain" element of the tour will involve wandering around Jersey's own vineyard learning how the local wine and apple brandy are produced and most importantly sampling both amongst the orchards and gardens.
Discover a family run fishery, housed in a World War Two Occupation bunker, as part of the "Sea" tour. As the name suggests, seafood such as the famous Jersey Oyster or local scallops will feature, with the chance to savour them in the most stunning beach setting.
The best way to finish the tour is by sampling a delicious Jersey cream tea. When in Jersey…
Forage all your local favourites.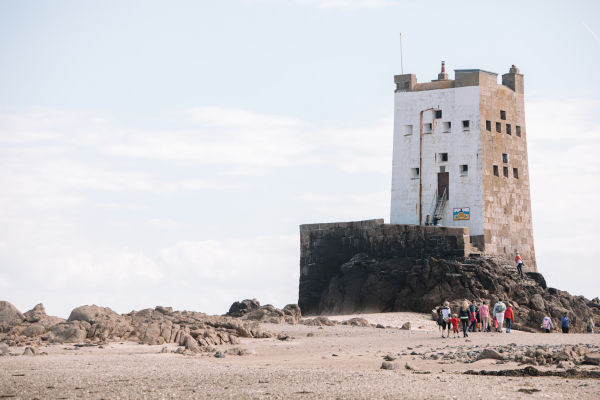 Overview.
From oysters in the Royal Bay of Grouville to fresh seafood and hand dived scallops from the Fresh Fish Company, your day will be filled with local favourites from sunrise to sunset.
Stops: Three.
Transport: Driving | Walking | Cycling.
---
1. Sea foraging the oyster trail.
Hire a bike and head east to Seymour slipway to meet your Jersey Walk Adventures guide. Your guide will take you on a sea foraging and oyster trail which leads to the internationally acclaimed Ramsar wetlands site.
Low tide timings might mean switching morning and afternoon activities. Both are equally fantastic at either time of the day.
2. Seymour Pub.
Follow the sea foraging and oyster trail with oysters and a glass of bubbles at The Seymour Pub. After that it makes sense to stay there for lunch. There are more oysters on the menu and you are just a moments stroll from the very oyster beds that they came from!
3. Evening BBQ.
Throw some Jersey produce on the barbie. From local fish and shellfish, to Jersey beef burgers and John Hackett's sought-after sausages, you will be spoiled for locally grown and home reared choices.
Head to the Fresh Fish Company, where you can pick up locally caught fish and seafood which arrive straight from the boats. Huge hand dived scallops and local MSC accredited lobster are pretty special and perfect for the BBQ.
Jon Hackett breeds pigs on his farm in St. Brelade, at "Me and the Farmer" at Brooklands Farm, where he makes pork and other meat products, including sausages, pasties and pies.
Whatever you choose, head west to La Saline at the northern end of St. Ouen's Bay and relax while the coals smoulder before the sun sets in an Instagram perfect spot.
Discover the delicacies of our local markets.
Overview.
The local market in the bustling town centre of St. Helier has been operating for two centuries and brings a flavour of historic charm to the vendors operating within. Explore the local hot spot for food from all corners and then unwind with some stunning local seafood at Quayside. Don't forget to fit in a trip to La Mare Wine Estate before you head off!
Stops: Three.
Transport: Driving | Walking.
---
1. Local markets.
A trip to Jersey is not complete without a visit to the town centre of St. Helier. Wander around the central markets which are bursting to the brim with colour, characters and local produce – they have served the community for over 200 years. The indoor market is a big, bold, airy space where you can make a wish at the fountain and arrange to send some flowers home. You can also admire the master bakers at Vienna Bakery as they prepare their goods in the bakery station, then buy some to take with you for your BBQ or picnic. Walk directly across the road from the Central Market to the Fish Market where you can purchase Jersey lobsters fresh from the pot. Ask one of the market team to shuck you a Jersey oyster – fresh and fabulous!
2. Fruits de mer.
Have one last Jersey lunch before heading home. A short walk from the Central Market will take you to the Quayside restaurant where you can relax, reconnect and take in those panoramic views over the marina. Fresh lobster with a buttery Jersey Dairy side serving of Jersey Royals anyone? It would be rude not to.
3. La Mare Wine Estate.
Take a taste of Jersey back home with you. Before you head to the airport, pick up some last minute gifts from La Mare Wine Estate. If you have time, book the guided tour of the vineyards and orchards or just chill out with the estate's Royal Gin and Tonic as you take in both the vines and the golden hour sunshine. Exit via the gift shop to take home handmade spirits, preserves and more. We'll see you soon.
You might also like...