Nature, animals & parks
The Jersey National Park
Jersey's unique character of land and sea, coast and countryside unite in the Jersey National Park. It's a place to reconnect and revitalise. A place to come together in the great outdoors and experience the wild side of the island break.
Where is the park?
The Jersey National Park extends over an area of approximately 30 miles (48km) of Jersey's coastline, Les Écréhous, Les Minquiers and Pierres de Lecq or Paternosters. Explore all of the things to do, places to eat and activities to enjoy in and around the Jersey National Park.
Things to do in the Park.
There's always something going on in the Jersey National Park, both on land and sea. From sunset concerts to film screenings, sporting challenges to foodie events, there really is something for everyone to enjoy in these stunning surrounds.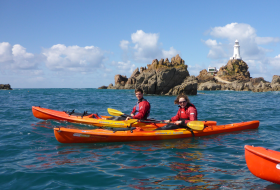 Reconnect with nature on a sea kayak tour. Explore an island shaped by the sea where some of the most astonishing tides in the world circle the coast. Kayak with local guides whose knowledge make this more than just a paddle around the bay. Our expert staff and user-friendly sit-on-top kayaks will quickly get you out exploring and having fun.
from £32
Jersey's leading watersports and adventure centre located in the stunning St. Brelade's Bay, owned and run by a professional and experienced team who enjoy nothing more than to share their passion for the sea and adventure with visitors and locals alike.
from £25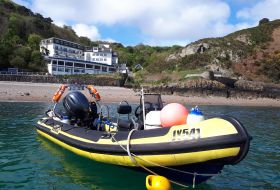 We are a PADI scuba diving resort. the oldest dive shop in Europe in fact. We are located on the North coast in beautiful Bouley bay. We also offer paddle boarding lessons and hire even SUP yoga, RIB trips, and snorkeling.
from £20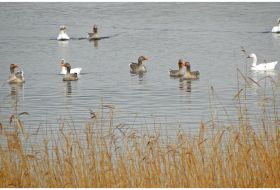 Perfectly situated overlooking St. Ouen's Pond, the Wetland Centre gives you and your family an opportunity to not only view the interesting and diverse bird life found at La Mare au Seigneur, but also to learn about the reserve's wildlife and rich history, safeguarded by the National Trust for Jersey since 1975.
Places to stay in the Park.
Dreaming of 5 stars or sleeping under the stars? Choose to wake up under canvas, in a holiday home, hotel or historic tower. You will find the perfect place in the Jersey National Park whether you are a couple, family or large group.
Food in the Jersey National Park.
Eat, drink, play, repeat. Fancy a beer and a burger or are you craving champagne and oysters? Check out the wide range of restaurants, cafes and bars the Jersey National Park has to offer, or in the Summer months cook your own and barbeque on the beach. Dress up or dress down, there is a place for you to enjoy breakfast, lunch or dinner.
More Information
In the Jersey National Park you'll find breath taking scenery, thrilling history, extraordinary things do to, unique places to stay and outstanding local food and drink – and it's all on your doorstep in the island break.
We are open all year round.
Outdoor

Family friendly

Couples

Pet friendly

Catering

Parking