Self-catering
Croix Cottage – St. Brelade
Originally a single storey fisherman's cottage built in the 17th Century and has been extended to provide a spacious three bedroom, two bathroom holiday home, with full amenities. The cottage is in a country and coastal location surrounded by farmland. To the rear is an open garden area and parking.
Price: £142 - £261
More Information
The beautiful Beauport beach is only a short stroll away from this traditional style granite cottage, where you will find unspoilt natural beauty. In the opposite direction, you will find St. Brelade's Bay that has a varied choice of restaurants, cafés, hotels and beach amenities.
We are open:
March, April, May, June, July, August, September, October
Location
Macole's Self Catering Holidays Limited
Maison Amicale
Jersey
St. Brelade
JE2 3JN

You might also like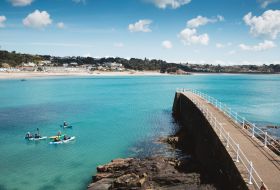 Specialist self-catering agent offering cottages, villas, apartments and unique historic accommodation options across the islands. Our website offers availability indication and transparent and easily understood pricing display. Our personal service to guide you to the right decision is highly rated by our clients.
from £74