With a canvas as beautiful as Jersey, and a rich and multi-layered history, it's no wonder why Jersey has museums and galleries tucked around every corner of the island. Explore the streets of St. Helier and you'll uncover arty spots and cultural gems to keep you entertained. Venture out around the island and you'll find galleries and jewels to explore. Soak up Jersey's cultural scene for a truly artistic escape.
Jersey is an island with a unique story to tell. 
Explore all arts and culture attractions in Jersey.
Check out what's on in Jersey's creative and cultural spaces.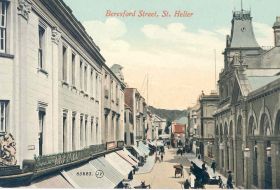 A series of free talks at Jersey Archive about Jersey's capital - St. Helier. Discover the fascinating story of our town and the communities who live and worked there, through a series of free talks by Jersey Archive. To book a place on the talk, please call us or send an email - booking is essential as numbers are limited.
Free entry
Booking needed
Dec 17 2022
More inspiration for your cultural island break.