Bouley Bay is a tiny harbour on the north coast flanked by green cliffs with a sandy shelf descending into deep blue waters. A rambling slope winds its way down towards the bay to reveal a deep anchorage, and it's the home of scuba diving in Jersey. The pebble beach shelves steeply into deep waters best enjoyed by stronger swimmers. It is the perfect spot to explore our underwater world with trained Scuba Diving professionals. Jutting out over the bay is Fort Leicester, a medieval fort with a modern interior that can be rented from Jersey Heritage for a quirky self-catered stay.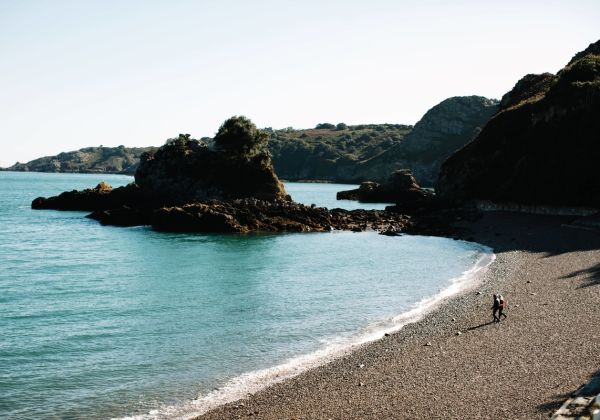 How to get here
Bouley Bay is situated on the North coast of the island between Bonne Nuit bay and Rozel harbour. It's accessible via difficult cliff path trails from either bay, as well as by car or bike down a steep, winding lane where they hold annual hill climbs.
Liberty bus also reach this bay so it's accessible via public transport, and for the more adventurous it can be reached by kayak or boat in calm tidal conditions.
Need to know
Bus routes
Route 4
Parking
Parking limited at the bottom of the hill.
Toilets
Public toilets available.
Bathing safety
Good swimmers only. The pebble beach shelves steeply and the water is deep, but inviting.
Accessibility
Not easy access and is a pebble beach so difficult to manoeuvre.
Dogs
Dogs must be kept on a lead between the hours of 10:00 – 18:00 between May and September, outside of this time dogs are free to roam the beaches, however please remember to pick up after your dog, and leave nothing behind but your footprint.