Arts & cultural
ArtHouse Presents: Drag King Exhibition & Talks
This exhibition presents us with an inside look at Amsterdam's first Drag King House - The House of Løstbois. Born out of a drag king academy set up by drag educator and mother 'Taka Taka' and artist'Father Julius' in March 2019.
More Information
The House of Løstbois began as a creative exploration of gender, and became so much more; a community, a support system, a family, a source of joy reaching far beyond pride.'Kin' is a series of photographs made by documentary photographer Stacey Yates-aka 'The Bill Please',and is the beginning of a broader project giving us a personal insight into the development of this queer world. In sharing these photos Bill provides us with glimpses of intimate and personal moments with his drag siblings while simultaneously exploring his own gender identity.'Kin' is used in reference to the term 'chosen family'.
Indoor

Outdoor

Family friendly

Wheelchair access

Parking
Location
ArtHouse Jersey
Grève de Lecq Barracks
Jersey
St. Mary
JE3 3AA

You might also like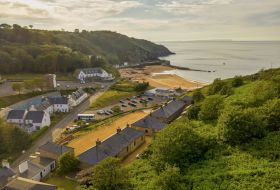 Grève de Lecq Barracks is home to ArtHouse Jersey's Headquarters. The charity exists to serve our Island community and international audiences by supporting artists from Jersey and across the world to create ambitious work.