Arts & cultural
ArtHouse Presents: Map of Wonders
This exhibition celebrates the work undertaken by primary school children in Jersey during The Map of Wonders project and beyond. The Map of Wonders is the first project within the Genesis Education Programme, a joint partnership project between ArtHouse Jersey and the GoJ's Department for Children, Young People, Education and Skills (CYPES).
15/09/2022 - 02/10/2022
More Information
The project is currently rolling out its second series of films and content in schools across the Island. Each series has had its own very distinct themes. Series 1 focuses on tales and folklore from Jersey's past, while series 2 focuses on celebrations around the world and Jersey communities.
September:

15th September 2022

16th September 2022

17th September 2022

18th September 2022

19th September 2022

20th September 2022

21st September 2022

22nd September 2022

23rd September 2022

24th September 2022

25th September 2022

26th September 2022
27th September 2022

28th September 2022

29th September 2022

30th September 2022

October:

1st October 2022

2nd October 2022
We are open:
September, October
Indoor

Outdoor

Wheelchair access

Parking
Location
ArtHouse Jersey
8 Church Street
Jersey
St. Helier
JE2 3NN

You might also like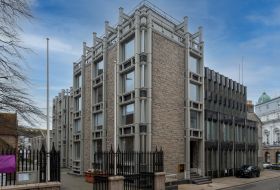 ArtHouse Jersey at Capital House is a brand new, multipurpose arts space located on the ground floor of the brutalist building at 8 Church Street, tucked behind The Royal Square and alongside St. Helier Town Church.