Arts & cultural
ArtHouse Presents: 'Recollect' Exhibition
Experimental design artist Thomas Buckley (Royal Shakespeare Company and Magic Leap fellow) has been commissioned to bring the memories of some of the elders of our community to life in a fully interactive exhibition that will enliven all of your senses.
11/11/2022 - 26/11/2022
More Information
Thomas has engaged a team of local volunteers to collect the memories and will be working with pyrotechnic, scent and sensory specialists to animate them for a fully immersive experience where you will be able to step in and relive the memory.
This exhibition is part of our 'Outside Looking In' series where we commission artists to connect with people in the fringes of our community to better understand their perspective and lived experience and bring this to life for the wider public to engage with. We are particularly interested in working with people who may fall outside of the mainstream and whose views might be less heard or understood in our society.
November:

11th November 2022

12th November 2022

13th November 2022

14th November 2022

15th November 2022

16th November 2022

17th November 2022

18th November 2022

19th November 2022

20th November 2022

21st November 2022

22nd November 2022
23rd November 2022

24th November 2022

25th November 2022

26th November 2022
Location
ArtHouse Jersey
8 Church Street
Jersey
St. Helier
JE2 3NN

Offers and events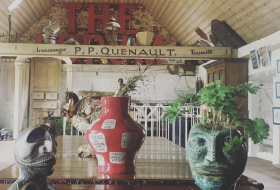 Set in this unique exhibition space above a working Forge, Materialise Me is the coming together of 12 artists and craftspeople from the UK and Jersey. Wonder round the grounds and into the showroom to experience art in a makers setting. This is the 3rd exhibition held at the Rylance Showroom hosted by Stephen Rylance and India Hamilton.
Free entry
Jul 29 2022 ‐ Aug 13 2022