Arts & cultural | Family friendly | Outdoor
Tudor Falconer at Mont Orgueil Castle
Meet Jean Simon, the Castle Falconer and his hawk Sovereign. Discover how Jean trains his birds of prey and watch him perform the fascinating skills of falconry, which were important in Tudor life. Learn of a 'hoodwinked' or 'haggard' bird and who is a 'cadger' or a 'boozer'. You'll find Jean and Sovereign awaiting your presence in the Middle Ward.
04/06/2023 - 26/09/2023
Price: £10 - £15.35
More Information
June:

6th June 2023

11th June 2023

13th June 2023

18th June 2023

20th June 2023

25th June 2023

27th June 2023

July:

2nd July 2023

4th July 2023

9th July 2023

11th July 2023

16th July 2023
18th July 2023

23rd July 2023

25th July 2023

30th July 2023

August:

1st August 2023

6th August 2023

8th August 2023

13th August 2023

15th August 2023

20th August 2023

22nd August 2023

27th August 2023

29th August 2023

September:

3rd September 2023

5th September 2023

10th September 2023

12th September 2023

17th September 2023

19th September 2023

24th September 2023

26th September 2023
We are open:
May, June, July, August, September
Location
Mont Orgueil Castle
Castle Green
Jersey
St. Martin
JE3 6ET

You might also like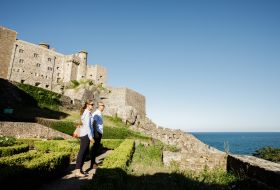 Mont Orgueil Castle, or Gorey Castle, has cast its imposing shadow over the beautiful fishing port of Gorey for more than 800 years. One of the finest examples of a medieval fortress in existence, Mont Orgueil is also a symbol of Jersey's national identity and independent character.
from £10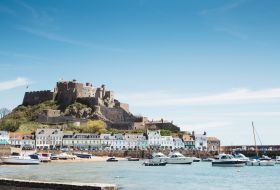 We are Jersey Heritage, our charity is dedicated to protecting Jersey's unique culture and heritage.