Family friendly | Food & drink | Music | Outdoor
Durrell at Dusk
Join us on Thursday 14 July and Friday 05 August to experience Jersey Zoo at this special time of day. Sit back and relax to live music, as you learn about fascinating animals at our keeper talks, and take part in a range of fun activities for all ages.
14/07/2022 - 05/08/2022
Price: £3 - £10
More Information
Grab a bite at one of our cafés, where you can eat in or alfresco on the terrace at Café Firefly, or enjoy Café Dodo's on-the-go street food selection as you wander the zoo grounds. Tickets can be purchased on arrival. Please arrive from 5pm to allow for queuing time, and note that entry to the zoo will close between 4.30pm–5pm to allow the team to prepare for the event.
Please note: Parking at the zoo is limited, so please consider going green and car-share where possible or make use of the bus and cycling routes.
Members admission prices:
Adult Member - £5
Concession Member - £4
Child Member - £3
Non-member admission prices:
Adult Admission - £10
Concession Admission - £8
Child Admission - £6
There are currently no dates available for this listing. Please contact us for more information.
Outdoor

Family friendly

Couples

Wheelchair access
Accessible parking or drop-off point
Accessible toilets
Level access
Level access from entrance to reception
Level access to bar
Level access to dining room, cafe or restaurant
Level access to main entrance
Suitable for visitors with limited mobility
Location
Jersey Zoo
La Profonde Rue
Jersey
Trinity
JE3 5BP

You might also like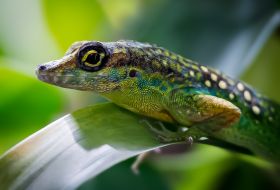 Jersey Zoo began as the first ever conservation-themed zoo. Over 60 years later, Gerald Durrell's animal haven is the natural place to discover some of the world's most incredible creatures. Whether you're after fun, tranquillity, knowledge or a place to soak up the sunshine, this beautiful 32-acre park has it all.
from £14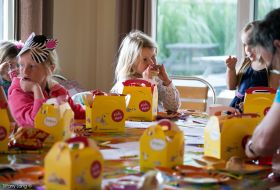 Café Dodo offers a family-friendly menu and a spacious area to match. Freshly made cakes, sandwiches, and a choice of delicious meals can either be enjoyed in safe view of the indoor children's play area, or out on the expansive terrace, overlooking Discovery Desert's meerkat residents.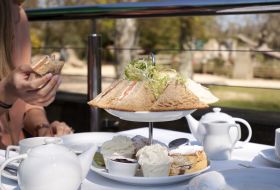 Café Firefly offers a variety of meals ranging from exotic curries to traditional afternoon teas, and there's a selection gluten-free and vegan options. Where else in Jersey could you enjoy a delightful meal surrounded by beautiful scenery and a view of playful Andean bears?