Arts & cultural | Outdoor
Geowalk: Prehistory of Jersey's North Coast
This FREE Geowalk will be led by Dr Josie Mills and will focus on the prehistory of the North coast of Jersey. Josie has been part of an archaeological team who have excavated and studied palaeolithic sites in Jersey since 2010. Her research and current project are centred on La Cotte à la Chèvre.
Seasonal opening
Free entry
Booking needed
Jersey Island Geopark
Contact
More Information
On this walk we will move from Grosnez to the headland above the cave site discussing what the landscape would have looked like when Neanderthals lived there and providing information about the artefacts that have been found. Josie will also discuss the history of the excavation and importance of la Chèvre as the first prehistoric site recognised on Jersey and it's position as part of the wider prehistory of the La Manche region.
Image: BAM Perspectives
You might also like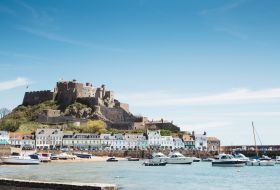 We are Jersey Heritage, our charity is dedicated to protecting Jersey's unique culture and heritage.