Sports | Outdoor
Hawksford Castle Chase
Take part in the Hawksford Castle Chase with Rock n Road, Jersey's only lunchtime beach trail race for a cause. A relay team of two will race from the shore out to Elizabeth Castle and back at low-tide. It's a 'harder than it looks' with a distance of two miles across the sand at low-tide (race route).
Seasonal opening
Booking needed
27/09/2022
Price: £18 - £25
More Information
A team of two costs £25, there are discounts for companies entering 5 or more teams. All the money raised supports the work we do to tell our Island story.
September:

27th September 2022
12:15 - 13:15
You might also like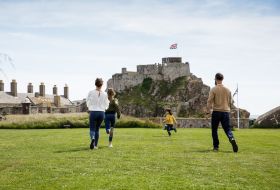 Built on a rocky islet in St. Aubin's Bay, Elizabeth Castle has defended Jersey for more than 400 years. You can take the amphibious castle ferry or walk out along the causeway at low tide. Elizabeth Castle is the perfect place to spend a day exploring Jersey's history with the Jersey Militia or castle gunner on parade.
from £8.60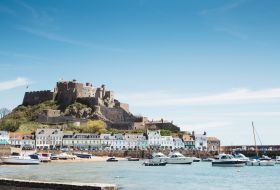 Jersey Heritage is the guardian of our island story. We care for it, promote access to it, bring imagination to telling its stories and inspire others to do the same. In Jersey, we are responsible for the island's major historic sites, award-winning museums and public archives.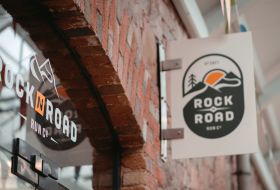 At Rock n Road, we love all things running and want to share our passion with you. Feel free to join any of our group runs which operate throughout the week. Alternatively, discover the beauty the island has to offer on your own two feet, by booking a guided running tour lead by experienced and qualified run-group leaders.