Arts & cultural | Festivals
JFoW – Iain Dale: Why Can't We All Just Get Along
Political commentator, radio presenter and author, Iain Dale discusses his recent publications The Prime Ministers, The Presidents and Why Can't We All Just Get Along: Shout Less, Listen More. When not debating current affairs on the popular podcast For The Many, Iain can be seen appearing as a commentator on Good Morning Britain.
Seasonal opening
Booking needed
24/09/2022
Price: starting at £8
More Information
The Jersey Festival of Words is a 5-day literary event promotes a love of the written and spoken word across our community in a variety of styles and settings, as well as welcoming internationally-renowned authors to our beautiful island.
The guiding principle of our festival is to celebrate the pleasure and power of words in all its forms, with something to include people of all ages and backgrounds. In addition to literary events, our festival includes performance poetry, drama, film, music and visual arts, always with words at its heart.
There are currently no dates available for this listing. Please contact us for more information.
Location
Jersey Arts Centre
Phillips Street
Jersey
JE2 4SW

You might also like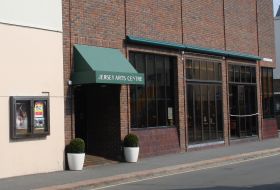 Jersey Arts Centre exists to foster the development and celebration of the arts island-wide and beyond. To enrich the quality of life for all residents and visitors. To encourage participation in the performing, visual and literary arts. To educate, inspire and to encourage debate.