Arts & cultural | Festivals
JFoW – Otto English: Fake History
Ten Great Lies And How They Shaped The World:
Setting out to redress the balance, journalist and author Otto English takes ten great lies from history and shows how our present continues to be manipulated by the fabrications of the past. He looks at how so much of what we take to be historical fact is, in fact, fiction.
Seasonal opening
Booking needed
Price: starting at £8
More Information
The Jersey Festival of Words is a 5-day literary event promotes a love of the written and spoken word across our community in a variety of styles and settings, as well as welcoming internationally-renowned authors to our beautiful island.
The guiding principle of our festival is to celebrate the pleasure and power of words in all its forms, with something to include people of all ages and backgrounds. In addition to literary events, our festival includes performance poetry, drama, film, music and visual arts, always with words at its heart.
Location
Jersey Arts Centre
Phillips Street
Jersey
St. Helier
JE2 4SW

You might also like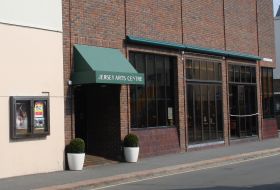 Jersey Arts Centre exists to foster the development and celebration of the arts island-wide and beyond. To enrich the quality of life for all residents and visitors. To encourage participation in the performing, visual and literary arts. To educate, inspire and to encourage debate.