Arts & cultural | Festivals
JFoW – Professor Mari Jones: Zoom Talk
Linguistic Detective Work in the Channel Islands:
Several years ago, a box containing several hundred slips of paper was brought to the notice of the Professor of French Linguistics at Cambridge University. Close examination revealed that they were fieldnotes...
Seasonal opening
Booking needed
Price: starting at £8
More Information
Professor Jones has since ordered, transcribed, systematised and edited the slips, creating an invaluable resource of Jèrriais, Guernésiais and Sercquiais terms.
The Jersey Festival of Words is a 5-day literary event promotes a love of the written and spoken word across our community in a variety of styles and settings, as well as welcoming internationally-renowned authors to our beautiful island.
The guiding principle of our festival is to celebrate the pleasure and power of words in all its forms, with something to include people of all ages and backgrounds. In addition to literary events, our festival includes performance poetry, drama, film, music and visual arts, always with words at its heart.
Location
Jersey Arts Centre
Phillips Street
Jersey
JE2 4SW

You might also like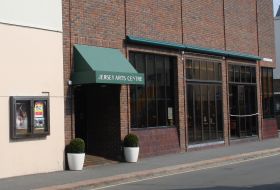 Jersey Arts Centre exists to foster the development and celebration of the arts island-wide and beyond. To enrich the quality of life for all residents and visitors. To encourage participation in the performing, visual and literary arts. To educate, inspire and to encourage debate.