Sports | Outdoor
Wellness Wednesday Breathing Workshop
Join Joe and Sharnelle for this evening workshop of SOMA breathwork in the ruins of a mid-19th Century fort overlooking Jersey's rugged north coast.
Seasonal opening
Booking needed
30/05/2022 - 10/08/2022
Price: starting at £35.08
More Information
Traverse the winding coastal path, cross the drawbridge and nestle in to the cosy ruins as you are guided through a transformational breathwork experience.
This session is part of the Wellness Wednesdays series, organised in collaboration with the Aspiring Jersey Island Geopark.
There are currently no dates available for this listing. Please contact us for more information.
Location
Breathing Workshop at L'Etacquerel Fort
La Route du Cotes du Nord
Jersey
Trinity
JE3 5BJ

You might also like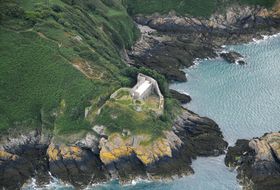 A rustic retreat on Jersey's north coast - traverse the winding coastal path, lower the drawbridge and enter your own fort on the stunning, rugged north coast of Jersey. Built in the mid-19th Century on a cliff side overlooking Bouley Bay, L'Etacquerel Fort is a great base for exploring Jersey's rugged north coast or a camping weekend.
from £320