Restaurant
Air Mex
Welcome onboard Air Mex. Step inside the fuselage of a Mexican prop plane serving mouth-watering cocktails, large selection of drinks and traditional Mexican street food situated right in the heart of The Weighbridge, St. Helier. Let us transfer you to a world when air travel was in its infancy, when flying was exciting and life was fun.
Cuisine: Mexican
More Information
Designed to recreate the interior of the first plane to be flown from Mexico City to Paris back in the late 1940's, Air Mex offers an abundance of cocktails, wide selection of proper tequilas (served from our in-flight drinks trolley) and a superb menu of delicious Mexican street food to enjoy. With private boothed areas you will enjoy your own space whilst taking in the atmosphere.
We are open all year round.
Accessible toilets
Partial wheelchair access
Location
Air Mex
9 Caledonia Place
Weighbridge
St. Helier
JE2 3NF

You might also like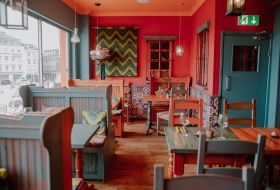 Immerse yourself in the complete Mexican experience at La Hacienda for an unforgettably good time. Situated above the very popular Air Mex Lounge Bar, the experience starts as you enter the rustic tiled doorway that leads up a curving staircase into the Mexican Cantina which is bursting with colour and good vibes.