Shopping in Jersey isn't just about shopping. It's about being able to stroll through the cobbled streets and squares of St. Helier, discovering hidden corners and new neighbourhoods with a mix of local boutiques and high street stores, and then taking a break for coffee beside the marina. With everything within easy walking distance, island-style shopping is perfect for a short break.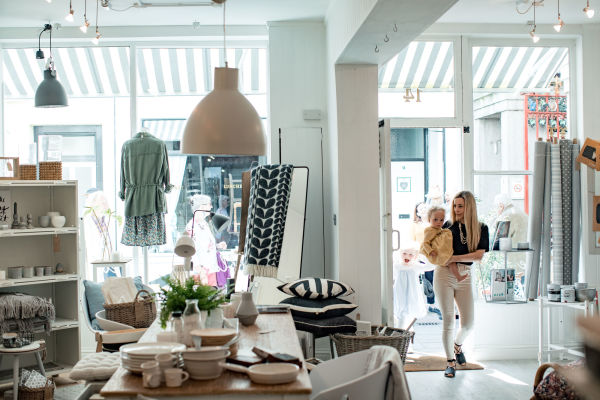 Local discoveries.
When you're on holiday, shopping is about more than simply shops. It's about discovering an area's unique character and taking home memories and mementoes to remind you of your stay, whether that's something for you, your home or your kitchen. From handcrafted art and accessories to homemade island food souvenirs, explore Jersey's town centre to discover locally-run shops, stalls and boutiques that offer something different.
Explore all shops in St. Helier.
St. Helier: Independents.
Looking for new discoveries? Spend some time exploring the pedestrian streets that surround Jersey's central market and you'll stumble across an array of shops from street style fashion to designer labels, chic home and accessory boutiques to restaurants, delicatessens and cafés. Try West's Centre, Halkett Place and Bath Street and the network of streets in between.
St. Helier: Department stores.
Jersey's main shopping street which spans King Street and Queen Street is where you'll find town's largest department stores in some of St. Helier's landmark buildings; Voisins, De Gruchy and USC. With international brands, beauty halls and fashion and home accessories, you'll find each has its own distinct style and character but together offer plenty of choice for high street shoppers.
St. Helier: Jewellery and watches.
Take advantage of the island's low-tax pricing and treat yourself to spectacular jewellery or a brand new watch while you're here. From leading international brands like Rolex, Patek Philippe, Breitling, Cartier and Chopard to hand-crafted jewellery from local designers, Jersey's jewellery stores are full of treasures to discover. Be dazzled at fourth-generation family-run Hettich Jewellers or  Aurum, H. Letto & Son, Goldsmiths, Rivoli or Stott & Willgrass.
More inspiration for your Jersey holiday.