Activity sessions & classes
Aerial Trekking & Powerfan at Valley Adventure
Got a head for heights and the thirst for a challenge?! Tackle the 26 obstacles at heights of 3m and 8m, and finish off with a 12m simulated free-fall drop. Get your feet off the ground for an unforgettable adventure! Guide yourself through a series of challenging obstacles on one of the most exciting activities we offer.
Duration: 1-2 hrs
Price: £19.50 - £30.00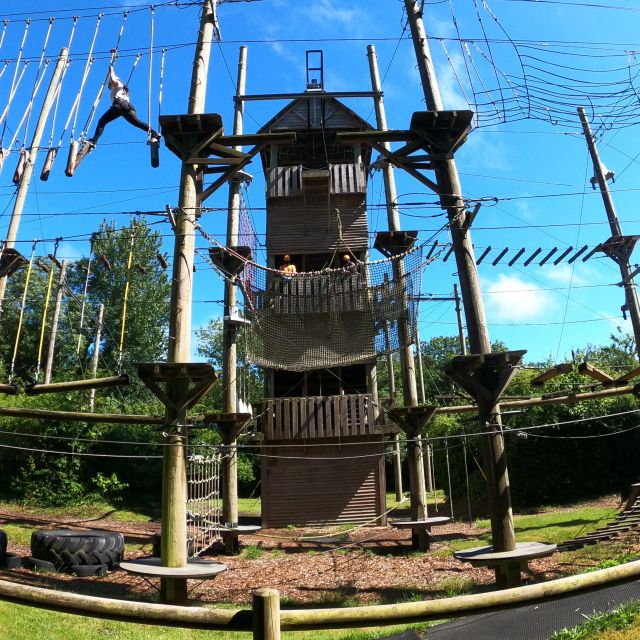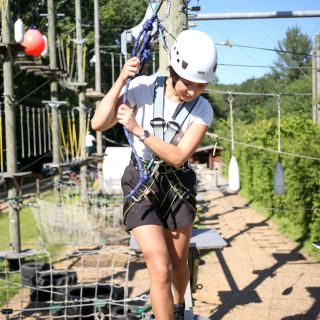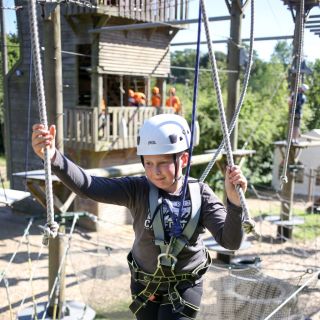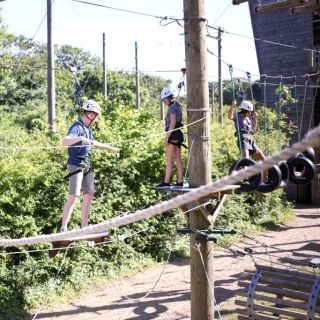 More Information
Challenge your powers of coordination, solve puzzles in mid-air, help motivate friends and family, and enjoy the most fun you can have with your feet off the ground. Great for adults and children, and perfect for family adventures. We have plenty of sessions running on the weekends and throughout the school holidays, as well as during the week.
For younger kids, check out our Rookie Trekking and Mini Zip experience!
June:

2nd June 2023
11:30 - 16:00

3rd June 2023
11:30 - 13:00

3rd June 2023
14:00 - 15:30

4th June 2023
11:30 - 13:00

4th June 2023
14:00 - 15:30

10th June 2023
16:00 - 17:30

11th June 2023
11:30 - 13:00

17th June 2023
11:30 - 13:00

17th June 2023
16:00 - 17:30

18th June 2023
16:00 - 17:30

18th June 2023
14:00 - 15:30

18th June 2023
11:30 - 13:00
24th June 2023
14:00 - 15:30

25th June 2023
14:00 - 15:30

25th June 2023
16:00 - 17:30

July:

1st July 2023
14:00 - 15:30

2nd July 2023
14:00 - 15:30

8th July 2023
14:00 - 15:30

9th July 2023
14:00 - 15:30

15th July 2023
14:00 - 15:30

16th July 2023
14:00 - 15:30

22nd July 2023
09:30 - 11:00

23rd July 2023
14:00 - 15:30

24th July 2023
14:00 - 15:30

25th July 2023
09:30 - 11:00

26th July 2023
11:30 - 13:00

26th July 2023
14:00 - 15:30

27th July 2023
11:30 - 13:00

28th July 2023
11:30 - 13:00

29th July 2023
11:30 - 13:00

30th July 2023
14:00 - 15:30

31st July 2023
14:00 - 15:30

August:

1st August 2023
09:30 - 11:00

1st August 2023
11:30 - 13:00

2nd August 2023
11:30 - 13:00

2nd August 2023
14:00 - 15:30

3rd August 2023
11:30 - 13:00

4th August 2023
09:30 - 11:00

5th August 2023
11:30 - 13:00

5th August 2023
16:00 - 17:30

6th August 2023
14:00 - 15:30

9th August 2023
11:30 - 13:00

9th August 2023
14:00 - 15:30

11th August 2023
09:30 - 11:00

12th August 2023
11:30 - 11:00

12th August 2023
16:00 - 17:30

13th August 2023
14:00 - 15:30

14th August 2023
14:00 - 15:30

15th August 2023
09:30 - 11:00

15th August 2023
11:30 - 13:00

16th August 2023
11:30 - 13:00

16th August 2023
14:00 - 15:30

17th August 2023
11:30 - 13:00

18th August 2023
09:30 - 11:00

19th August 2023
11:30 - 13:00

20th August 2023
14:00 - 15:30

21st August 2023
14:00 - 15:30

22nd August 2023
09:30 - 11:00

22nd August 2023
11:30 - 13:00

23rd August 2023
11:30 - 13:00

23rd August 2023
14:00 - 15:30

24th August 2023
11:30 - 13:00

25th August 2023
09:30 - 11:00

26th August 2023
11:30 - 13:00

26th August 2023
16:00 - 17:30

27th August 2023
14:00 - 15:30

28th August 2023
14:00 - 15:30

29th August 2023
09:30 - 11:00

29th August 2023
11:30 - 13:00

30th August 2023
11:30 - 13:00

30th August 2023
14:00 - 15:30

31st August 2023
11:30 - 13:00

September:

1st September 2023
09:30 - 11:00

2nd September 2023
11:30 - 13:00

3rd September 2023
14:00 - 15:30
Outdoor

Family friendly

Parking
Location
Valley Adventure Centre
Mont a la Brune
Jersey
St. Brelade
JE3 8FL