Tours
Bespoke Tours with Jersey Military Tours
Jersey Military Tours specialises in custom experiences covering battlefield and military history, general history and archaeology, with some natural history and geology thrown in. Would you like your own customised private tour? Or would you like us to organise a special event tour or private tour for a group, conference delegates and guests, a pilgrimage or remembrance tour, a corporate or business event or even an outing for family and friends? Whatever your requirement, we can provide a tour for you!
Duration: over 5 hrs
More Information
Stuck for an idea for the Tour? Discover a range of experiences by browsing our tours themes and pick your perfect package. If you want us to help in devising custom tours with an educational element or objective, we are happy to suggest itineraries and to work with you to achieve that.
Subject to our diary, we can organise custom tours for you and your group on any day, part day or on multiple days to suit your schedule – and we will even collect from and deliver you back to the Airport or Harbour if your time is short! Ask us about availability and for a quote for a custom tour.
We are happy to include your social activities as part of an itinerary like a drop off at your favourite restaurant at the end of a tour. We will even pick up groups after their meal and get them back to their hotel as part of our service!
Prices will depend on size of group and vehicle used. Groups prices start from £205 for a half day, and from £315 for a full day dependant on the size of the group and these prices are inclusive of transport which we provide. Admission prices to museums, bunkers etc will be charged in addition.
November:

30th November 2023

December:

1st December 2023

2nd December 2023

3rd December 2023

4th December 2023

5th December 2023

6th December 2023

7th December 2023

8th December 2023

9th December 2023

10th December 2023

11th December 2023
12th December 2023

13th December 2023

14th December 2023

15th December 2023

16th December 2023

17th December 2023

18th December 2023

19th December 2023

20th December 2023

21st December 2023

22nd December 2023

23rd December 2023

24th December 2023

25th December 2023

26th December 2023

27th December 2023

28th December 2023

29th December 2023

30th December 2023

31st December 2023
You might also like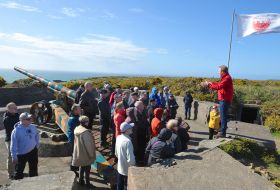 When history comes alive! Join Marc Yates, the only accredited Battlefield Guide in the Channel Islands on a journey of military history from Iron Age forts to German occupation bunkers. Let me open your eyes to Jersey's fabulous military history and scenic beauty!
from £195