Tours
Bioluminescence on The Beach
As night descends and the ocean recedes, star-like shapes of luminous green begin to twinkle and sparkle in a few unique spots at low tide. Experience the uniqueness of bioluminescent creatures and other marine life on this "moonwalk" across the seabed. Visit our site to book online.
Duration: 1-2 hrs
Price: £19
More Information
In just a few hours, the ocean will return to cover your footprints by up to 40ft. Expect to get your feet wet (Wellington boots can be hired). Private walks are possible - subject to low tides and the lunar phase. Advance booking is essential as we walk in small groups, so make sure you visit our website for more dates, and information on other seabed walks and explorations.
July:

24th July 2022
21:45 - 23:15

25th July 2022
22:30 - 23:59

August:

23rd August 2022
22:00 - 23:30

24th August 2022
22:30 - 23:59

September:

21st September 2022
22:00 - 23:30

22nd September 2022
22:30 - 23:59
Outdoor

Family friendly

Couples

Parking
This walk is across uneven terrain at night. Walking poles and Wellington boots are available. 1 mile. Inclusion, BSL, and Autism trained staff.  Please contact us in advance. We will endeavour to enable you or your group to have an enjoyable activity.
Location
Book online. The meeting point is confrmed when you book
Ackaless
La Grande Route de la Cote
Grouville
JE2 6FW

You might also like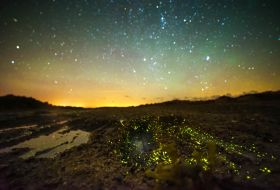 Enter a world where the ocean disappears to the horizon and we are all visitors. Explore rock pools on a guided walk into Europe's largest rocky inter-tidal zone. Walks to Seymour Tower are also called "moonwalks". Discover Jersey's wilderness with local guides who have explored this wonderful coast for many years.
from £9