Tours
Family Walk on the Seabed to Seymour Tower
A fun daytime 'moonwalk' on the seabed, as you ramble towards Seymour Tower (one mile offshore) with an expert local guide. You will wade through gullies and rock pools to observe tiny beasts and lots of amazing marine life. Don't forget a bag as we always find pretty shells. You'll be on a discovery tour in a seaweed jungle and marine mini-zoo – so expect to get your feet wet!
Duration: 2-3 hrs
Price: £12 - £21
More Information
There are many stops to explore puddles and collect crazy-coloured shells and uniquely shaped pebbles. A perfect activity for families with youngsters from 4-14 years – or older. Adults £21, Children £12.
Visit our website for more dates, tours and online booking options.
April:

7th April 2023
13:00 - 16:00

10th April 2023
14:30 - 17:30

23rd April 2023
14:00 - 17:00

June:

2nd June 2023
10:30 - 13:30

18th June 2023
12:15 - 15:15
Outdoor

Family friendly

Couples

Parking
Easy-moderate terrain. Distance: Three miles/4.8 km. Inclusion, BSL and Autism trained staff. Please contact us in advance to discuss any special requirements. We will endeavour to enable you or your group to have an enjoyable activity.
British Sign Language
Partially suitable for visitors with limited mobility
Location
Book online. The meeting point is confrmed when you book
Ackaless
La Grande Route de la Cote
Grouville
JE2 6FW

You might also like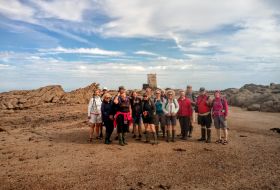 Enter a world where the ocean disappears to the horizon, and we are all visitors. Explore rock pools on a guided walk into Europe's largest rocky inter-tidal zone. Walks to Seymour Tower are also called "moonwalks". Discover Jersey's wilderness with local guides who have explored this wonderful coast for many years.
from £12