Tours
Into The Blue – Kayak into Nature
Paddle away from the hustle and bustle of everyday life as you reconnect with nature and the environment on a 1½ hour Kayak tour with Jersey Kayak Adventures, the islands only specialist kayak company. Experience the sights, sounds, smells and sensations of being in nature as you paddle your kayak along the beautiful coastline around Jersey.
Duration: 1-2 hrs
Price: starting at £31
More Information
Exposure to nature and the ocean has enormous benefits for our well-being. Just being on or beside the sea is a beautiful way to decompress from our busy lives.
The benefits of reconnecting with nature and the ocean are often called "Blue Health". Novices are welcome. Blue Kayak Tours spend about 1 hour on the water, and it's long enough to see something new but not end up too tired, so you only need to be of average fitness. To ensure you paddle in the best spot, we check the weather forecast and confirm the venue by SMS text the evening before.
Paddle with your friends, family or just by yourself (you can also book private tours). We paddle in small groups, so booking is advised.
If you arrive by bus, taxi, electric vehicle, cycle or foot, an Eco-discount is applied when you book. Our sit-on-top sea kayaks are stable, so there is no need to worry about capsize drills and "wet exits". However, this is a water sport, and there is always the chance you might fall in, so don't take cameras, mobile phones, car keys etc., afloat. We supply long John style wetsuits (full-length sleeveless wetsuits) from child to XXL. Our wetsuits are less restrictive than traditional wetsuits and are a great way to keep you warm and comfortable afloat. We also supply windproof jackets (cagoules) and buoyancy aids. Visit our website for dates and times of our kayak tours and book online.
Outdoor

Family friendly

Couples
Inclusion, BSL and Autism trained staff. Please contact us in advance to discuss any special requirements. We will endeavour to enable you or your group to have an enjoyable activity.
Location
Jersey Kayak Adventures
Book online. Office. Ackaless
La Grande Route de la Cote
JE2 6FW

You might also like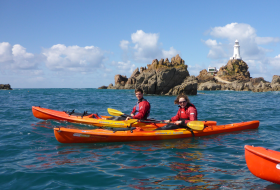 Reconnect with nature on a sea kayak tour. Explore an island shaped by the sea where some of the most astonishing tides in the world circle the coast. Kayak with local guides whose knowledge make this more than just a paddle around the bay. Our expert staff and user-friendly sit-on-top kayaks will quickly get you out exploring and having fun.
from £32