Tours
Jersey Duchess 2-Hour Southwest Coast Tour
Jump on board the Jersey Duchess for an exciting 2-hour trip around Elizabeth Castle, St. Aubin's Bay, Noirmont Point, St. Brelade's Bay and up to Corbière Lighthouse. This activity includes commentary from our captain as we explore the Island of Jersey from a different perspective. Join us on board the Jersey Duchess, grab a drink or snack from our fully stocked bar and keep your eyes out for Dolphins!
Duration: 2-3 hrs
Price: £13 - £26.50
More Information
By day the vessel offers a fantastic 2 hour tour of the south west of the island including the iconic La Corbière Lighthouse. The Jersey Duchess is the largest boat in our fleet and can host up to 75 people.
Check out our website or get in contact with our Crew for up to date tour times and any special events happening on board.
Outdoor

Family friendly

Couples
Partially suitable for visitors with limited mobility
Location
The Jersey Duchess
Albert Pier Pontoon
Jersey
St. Helier
JE4 2QT

You might also like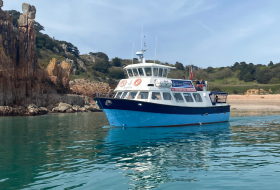 Jump on board the Jersey Duchess to see the island from a different perspective! We offer daily boat tours, sunset tours, events and private charters along the southwest coast.
from £13