Tours
Jersey's Origin of 'The Royals' – 5 Day Tour
Discover all things Jersey - from our infinite breed of the 'Jersey Cow' to our internationally renowned 'Jersey Royal'. This amazing five day tour will help you gain a true perspective of Jersey as an autonomous Dependency of the Crown; that is neither English nor French, yet distinctively somewhere in the middle. Come and join us on a journey of daily discoveries, the history of our gourmet gastronomy and all things Jersey.
Duration: over 5 hrs
More Information
Discover the unique structure of our historical island, following traditional disciplines still within each of our 12 parishes, that make up Jersey. Internationally renowned for its gourmet early season potato, plus infamous Jersey honey-brown coloured breed of 'Cow', developed accordingly since 1860. Jersey still retains its traditional beliefs relating to early Norman dominance of the 11th century, (William the Conqueror of 1066). From that time we still regard the Sovereign of Great Britain as our Duke of Normandy. Our speciality early season new potato originates from a variety called 'the fluke'. Superseding the Apple and Cider industry, with exports of 115,000 barrels a year to the UK.
Outdoor

Family friendly

Couples
Location
ExperienceJersey
Various Locations
Jersey
Grouville

You might also like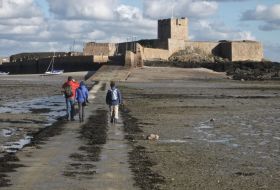 From the natural forces that shaped Jersey, to the castles that defended it, the industries that built it, and the Occupation that still marks it: Join our guides and ExperienceJersey. Jersey is a magical place, and you will experience it all. So get ready; its culture, prehistoric history, vibrant energy plus local lifestyle awaits!