Tours
Medieval Castles & Battlefields Tour
Our Medieval Castles & Battlefields Tour explores the age of swords, bows and arrows when castle building demonstrated power. Jersey has two magnificent medieval castles, Gorey and Grosnez, albeit that the latter has been in ruins for the last 650 years! Battles were also brutal bloody affairs, and we will see as gunpowder and cannons entered the battlefield, the medieval period came to an end.
Duration: over 5 hrs
More Information
You will be guided across the island visiting a selection of sites from the Medieval Period. We hear how Jersey evolved as a Crown possession, with different laws, customs and privileges which grew into modern Jersey. We will visit castles, fortifications and battlefields.
This half day tour is available to book as a private group tour on any available day, all year around – please book online or contact us for further options.
* Highlights *
- Site of 1406 Battle of the Bridge (or Sands) – Hector de Pontbriand and Pero Nino against English and Jersey forces – one of the many battles of the Hundred Years War
- Parish Churches – (driving past)
- Mont Orgueil Castle – the unconquered castle (entry only on full day tours)
- Chastel Sedement, Trinity
- Jardin D'Olivet, 1549 battlefield site, Trinity
- Grosnez Castle siege in 1373 during Hundred Years War
History Alive's tours are devised in a way to give our guests an overall and enjoyable experience which means that we won't always follow the same route or stop at all the above highlights, although we will do our best to do so.
Without much documentary evidence from the medieval period, it's history is a mix of legend, myth and known facts. Visit castles and battlefields, handle the weapons and solve the enigmas of this period.
November:

30th November 2023

December:

1st December 2023

2nd December 2023

3rd December 2023

4th December 2023

5th December 2023

6th December 2023

7th December 2023

8th December 2023

9th December 2023

10th December 2023

11th December 2023
12th December 2023

13th December 2023

14th December 2023

15th December 2023

16th December 2023

17th December 2023

18th December 2023

19th December 2023

20th December 2023

21st December 2023

22nd December 2023

23rd December 2023

24th December 2023

25th December 2023

26th December 2023

27th December 2023

28th December 2023

29th December 2023

30th December 2023

31st December 2023
Indoor

Outdoor

Family friendly

Couples
You might also like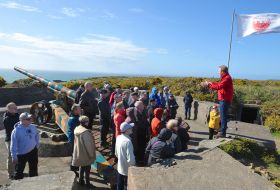 When history comes alive! Join Marc Yates, the only accredited Battlefield Guide in the Channel Islands on a journey of military history from Iron Age forts to German occupation bunkers. Let me open your eyes to Jersey's fabulous military history and scenic beauty!
from £195