Tours
Seabed Walk to Icho Tower
Discover a marine world that is hidden beneath the ocean and only appears on the lowest tides of the year as we walk one mile from shore to Icho Tower. Venture into Jersey's very own wilderness, which is covered by some of the highest tides in the world, on a marine exploration with a local trained guide. Also called "Moonwalks", our walks are in the daytime, and the seabed is more than just a barren lunar-like landscape.
Duration: 2-3 hrs
Price: £13 - £24
More Information
You may get your feet wet so be sure to bring the wellington boots or they can also be hired. The departure point is confirmed when you book.
Terrain: Easy - moderate
Distance: Three miles/4.8 km
Visit our website for more dates and online booking.
January:

14th January 2024
13:15 - 16:15

February:

10th February 2024
11:30 - 14:30
Family friendly

Couples

Parking
Inclusion, BSL and Autism trained staff. Please contact us in advance to discuss any special requirements. We will endeavour to enable you or your group to have an enjoyable activity.
Location
The meeting point is confirmed when you book online.
Ackaless,
La Grande Route de la Cote
St. Clement
JE2 6FW

You might also like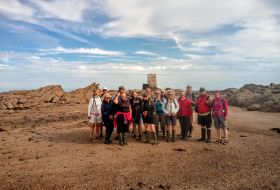 Enter a world where the ocean disappears to the horizon, and we are all visitors. Explore rock pools on a guided walk into Europe's largest rocky inter-tidal zone. Walks to Seymour Tower are also called "moonwalks". Discover Jersey's wilderness with local guides who have explored this wonderful coast for many years.
from £13