Tours
Seabed Walk to Seymour Tower
Walk on the seabed and explore gullies and rock pools as you walk to Seymour Tower (one mile offshore) and discover Jersey's very own wilderness with expert local guides. Walk in Europe's largest inter tidal rocky area during our 'Moonwalks' as you discover the lunar-like rock formations. Escape from the sounds and activities of everyday life as you explore a place that is neither sea nor land.
Duration: 2-3 hrs
Price: £18
More Information
Revel in the stillness and expanse of an area that is covered twice a day by some of the highest tides in the world (40ft). The area is, however, full of marine and bird life, with a rich maritime history.
Wellington boots can be hired and may be needed as the water may go to just below your knees. Private walks can be arranged on other dates subject to low tides. Visit our website for more dates and to book online.
January:

2nd January 2022
10:45 - 13:45

22nd January 2022
14:00 - 17:00

February:

19th February 2022
13:30 - 16:30

22nd February 2022
15:00 - 18:00

March:

6th March 2022
13:45 - 16:45
Outdoor

Family friendly

Couples

Parking
Inclusion, BSL and Autism trained staff.  Please contact us in advance. We will endeavour to enable you or your group to have an enjoyable activity.
Accessible Parking Or Drop-off Point
British Sign Language
Location
Book online. The meeting point is confirmed when you book.
Ackaless
La Grande Route de la Cote, St Clement
Grouville
JE2 6FW

You might also like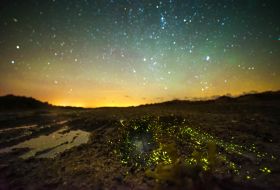 Enter a world where the ocean disappears to the horizon and we are all visitors. Explore rock pools on a guided walk into Europe's largest rocky inter-tidal zone. Walks to Seymour Tower are also called "moonwalks". Discover Jersey's wilderness with local guides who have explored this wonderful coast for many years.
from £9