Tours
The Oyster Trail
Join a local resident to walk among the oyster and mussel beds in the Royal Bay of Grouville, followed by the opportunity to sample fresh Jersey Oysters at The Seymour Pub and Restaurant. Hear about the modern cultivation of shellfish in Jersey - the biggest oyster beds in the British Isles - and the fascinating history of the oyster fishery, which in the 19th century was a major industry.
Duration: 1-2 hrs
Price: £12 - £21
More Information
We also offer bespoke private walks that can be organised in advanced. Be sure to visit our website book online or for dates of all our walks, including our popular seaweed foraging experiences.
January:

27th January 2024
12:30 - 15:00

February:

24th February 2024
12:30 - 15:00
Outdoor

Family friendly

Couples
Inclusion, BSL and Autism trained staff. Please contact us in advance to discuss any special requirements. We will endeavour to enable you or your group to have an enjoyable activity.
British Sign Language
Partially suitable for visitors with limited mobility
Location
The meeting point is confirmed when you book
Ackaless, La Grande Route de la Cote
Jersey
Grouville
JE2 6FW

You might also like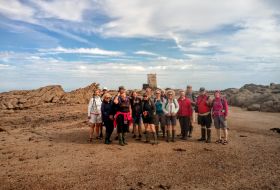 Enter a world where the ocean disappears to the horizon, and we are all visitors. Explore rock pools on a guided walk into Europe's largest rocky inter-tidal zone. Walks to Seymour Tower are also called "moonwalks". Discover Jersey's wilderness with local guides who have explored this wonderful coast for many years.
from £12