Embark on a walking tour and you'll soon find that for a small island, Jersey is full of surprises.
Our local guides will lead you on a journey through the island's history, beating a path through hidden trails and secluded bays while sharing local secrets. Or discover the island at your leisure with an abundance of self-guided walking tours. Just bring your walking shoes and a sense of adventure.
Guided walking tours.
Meet Jersey's local walking oracles.
Jersey's friendly, knowledgeable guides will take you on a captivating 800-year journey through war, occupation, smugglers, ghosts and witchcraft legends on an island that is steeped in history, heritage and natural wonders. Tie those laces and come and explore this unique island.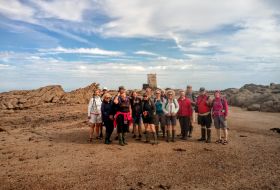 Enter a world where the ocean disappears to the horizon, and we are all visitors. Explore rock pools on a guided walk into Europe's largest rocky inter-tidal zone. Walks to Seymour Tower are also called "moonwalks". Discover Jersey's wilderness with local guides who have explored this wonderful coast for many years.
from £12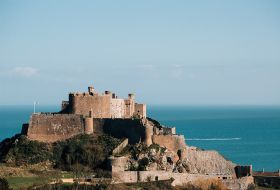 Melanie Cavey is a Jersey born, qualified Bronze Badge guide with a passion for the island and its fascinating history and beautiful environment. Melanie's main aim is always to make Jersey more than 'just an island', by bringing it alive through the stories behind buildings, places and some of the many people who have contributed to our society.
from £10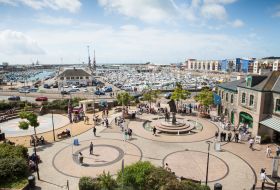 Join Blue Badge Guide Martin, for one of his Occupation themed walking tours, The German Occupation Coastal Trail and St. Helier - Liberation to Occupation. A specialist in military tours from Napoleonic to WW2 and the Occupation of Jersey, he looks forward to welcoming you to join one of his walking tours and sharing his knowledge with you.
from £8
Bronze Badge Guide and former Harbourmaster, Capt. Brian Nibbs will lead you on a maritime adventure as you learn about the development and traditions across the island - with the occasional maritime anecdote! No two walks are the same and a warm welcome awaits you on this informal stroll with a seafaring flavour.
from £11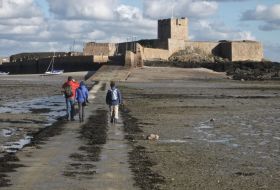 From the natural forces that shaped Jersey, to the castles that defended it, the industries that built it, and the Occupation that still marks it: Join our guides and ExperienceJersey. Jersey is a magical place, and you will experience it all. So get ready; its culture, prehistoric history, vibrant energy plus local lifestyle awaits!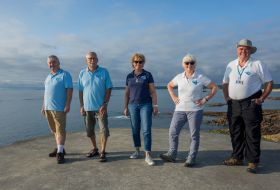 Jersey Uncovered is a team of registered, qualified Blue Badge Guides who provide bespoke and group tours of the island by coach, car, foot, bike or kayak. Each of the members have different specialities and can tailor their tours to meet individual needs. The one thing we all have in common is a passion for the wonderful island we call home.
from £15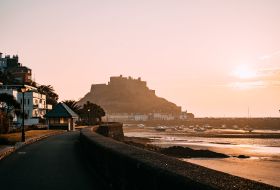 Alan Ley, Ex Forces (Army, Infantry 1982-1994) has lived in Jersey over 17 years and was also a Volunteer Tour Guide and Training Mentor for new volunteers at Jersey Heritage. Stroll In Jersey is a personal service for individuals or groups to take walks and tours in Jersey, both rural and urban. Please see Eventbrite for more details on costs.
from £15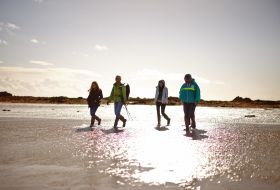 Surrounded by crystal clear seas and wonderful beaches, the island has an incomparable depth of history and heritage, from Palaeolithic, Neolithic and the bronze age to modern times. Our qualified guides will help you learn and understand more about this rich and diverse island. You can arrange private tours for individuals, small or large groups.
Self-guided walking tours.
With wild, wooded valleys, pretty country lanes and undulating coastal paths, Jersey is an island that's made to be explored by foot. From north to south, east to west, our vibrant and varied landscapes are just waiting to be discovered. So, tie up your walking shoes and explore the island at your own pace with one of our self-guided walking tours.
Uncover the island's unique history.
Jersey's small on size, but it's rich in history and breathtaking locations, making it perfect to explore on foot. Join some of the island's finest tour guides and uncover a whole island's worth of unique perspectives and discoveries, from tree-lined country lanes that open out to spectacular sea views to hidden-away bays and secret beaches all to yourself. Take a walk on the wild side and see what you'll discover.
Get into the stride of island life…
… with more ways to fill your Jersey break.
Put your best foot forward with our walking inspiration.
Tie up those laces and explore the outdoors.
Check out these snaps taken on some of the walking tours.