Embark on a walking tour with a knowledgeable local guide and you'll soon find that for a small island Jersey is full of surprises.
Our local guides will lead you on a journey through the island's history, beating a path through hidden trails and secluded bays while sharing local secrets. Just bring your walking shoes and a sense of adventure.
Meet Jersey's local walking oracles.
Friendly, knowledgeable guides will take you on a captivating 800-year journey through war, occupation, smugglers, ghosts and witchcraft legends on an island that is steeped in history and heritage.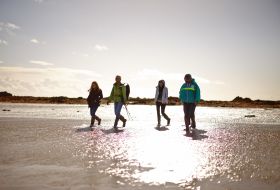 Surrounded by crystal clear seas and wonderful beaches, the island has an incomparable depth of history and heritage, from Palaeolithic, Neolithic and the bronze age to modern times. Our qualified guides will help you learn and understand more about this rich and diverse island. You can arrange private tours for individuals, small or large groups.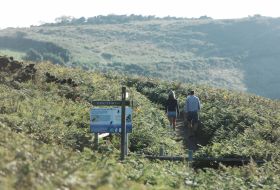 We aim to deliver a tour, which offers you the best chance to see the birds and wildlife of the island. We feel it is important to have fun in the process and our tours therefore operate in a relaxed atmosphere. We cater for all levels of birding ability, identifying by both sight and sound.
from £30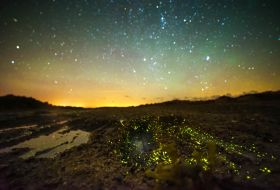 Enter a world where the ocean disappears to the horizon and we are all visitors. Explore rock pools on a guided walk into Europe's largest rocky inter-tidal zone. Walks to Seymour Tower are also called "moonwalks". Discover Jersey's wilderness with local guides who have explored this wonderful coast for many years.
from £9
Get into the stride of island life…
… with more ways to fill your Jersey break.
Put your best foot forward with our walking inspiration.