Embark on a walking tour and you'll soon find that for a small island, Jersey is full of surprises.
Our local guides will lead you on a journey through the island's history, beating a path through hidden trails and secluded bays while sharing local secrets. Or discover the island at your leisure with an abundance of self-guided walking tours. Just bring your walking shoes and a sense of adventure.
Guided walking tours.
Meet Jersey's local walking oracles.
Jersey's friendly, knowledgeable guides will take you on a captivating 800-year journey through war, occupation, smugglers, ghosts and witchcraft legends on an island that is steeped in history, heritage and natural wonders. Tie those laces and come and explore this unique island.
Self-guided walking tours.
With wild, wooded valleys, pretty country lanes and undulating coastal paths, Jersey is an island that's made to be explored by foot. From north to south, east to west, our vibrant and varied landscapes are just waiting to be discovered. So, tie up your walking shoes and explore the island at your own pace with one of our self-guided walking tours.
Uncover the island's unique history.
Jersey's small on size, but it's rich in history and breathtaking locations, making it perfect to explore on foot. Join some of the island's finest tour guides and uncover a whole island's worth of unique perspectives and discoveries, from tree-lined country lanes that open out to spectacular sea views to hidden-away bays and secret beaches all to yourself. Take a walk on the wild side and see what you'll discover.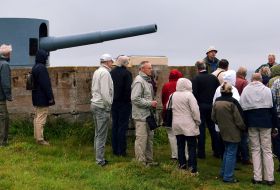 Against a background of spectacular coastal scenery, walk around Jersey's dry land battleship, Battery Lothringen. Hear about occasions when the battery was in action. Conclude with a guided visit inside the restored underground armoured Command Bunker, with it's two storey exhibition, bringing back how life was in those dramatic occupation days.
from £10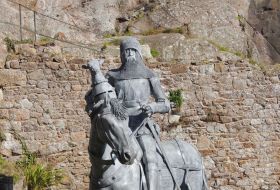 Join us and discover the history behind Jersey's pioneering ancestral fathers influenced what today has become the basis of the USA, through our trading of what is known as the 'Cod Trade'. Discover the island's unique parishes, displaying an understanding of how through those early days of 1800s, we were shaping the frontiers of the United States of North America.
from £140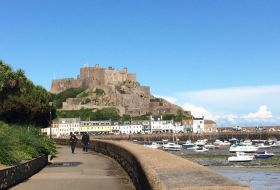 Join this enjoyable stroll along the seafront of Gorey and through the picturesque Gorey village as guide Melanie tells how the once dilapidated harbour of 1815 went on to become the thriving centre for fishing; commerce and tourism on the island. Hear too of the radical effects of the Occupation of WW2 in this iconic area of the island.
from £11
Booking needed
Dec 09 2022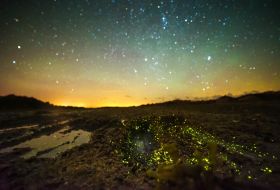 As night descends and the ocean recedes, star-like shapes of luminous green twinkle and sparkle in a few unique spots at low tide. Experience the uniqueness of bioluminescent creatures and other marine life on this "moonwalk" across the seabed. Visit our website to book online.
from £21
Booking needed
Dec 18 2022 ‐ Feb 18 2023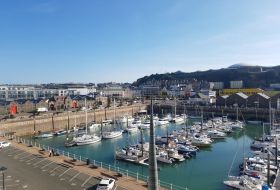 Bronze Badge Guide and former Harbourmaster, Capt. Brian Nibbs will lead you on a maritime adventure as you learn about the historical developments and nautical traditions across the island - with the occasional maritime anecdote! No two walks are the same and a warm welcome awaits you on this informal stroll with a seafaring flavour. The tour will also explore some of the lesser-known areas of the harbour.
from £11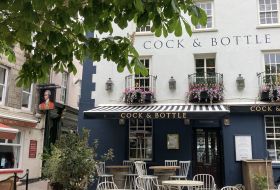 Bronze Badge Guide, Melanie will lead you on a revealing walk through central St. Helier and uncover intriguing facts and stories about some of the amazing people and buildings that have left their mark on the town.
from £8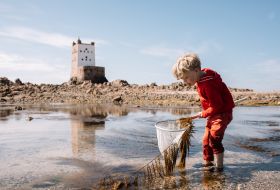 A fun daytime 'moonwalk' on the seabed, as you ramble towards Seymour Tower (one mile offshore) with an expert local guide. You will wade through gullies and rock pools to observe tiny beasts and lots of amazing marine life. Don't forget a bag as we always find pretty shells. You'll be on a discovery tour in a seaweed jungle and marine mini-zoo – so expect to get your feet wet!
from £19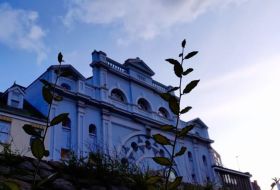 This self-guided walk focuses on the historic town centre whilst discovering hidden gems along the way. Solve fun location specific riddles to unlock fascinating local stories. From historic battles and life during the occupation, castles and cattle markets, to tales of thousands toads – St. Helier has it all.
from £24
Booking needed
Dec 02 2022 ‐ Dec 31 2022
Get into the stride of island life…
… with more ways to fill your Jersey break.
Put your best foot forward with our walking inspiration.
Tie up those laces and explore the outdoors.
Check out these snaps taken on some of the walking tours.