Van budgetvriendelijk tot pure luxe, gelegen aan de kust of de binnenlanden, dit eiland heeft het allemaal. Waar u ook besluit te verblijven en te ontspannen, één ding is zeker: ons uitzonderlijke -soort van- Britse eiland is een plek waar u zich echt op vakantie zult voelen.
Laat u eindeloos verwennen in bekroonde saunas, beleef 'spetterend' familieplezier en ervaar uitmuntende service met aandacht voor detail. Het kiezen van een hotel is een uitdaging omdat dit eiland zo'n uitgebreide selectie hotels heeft die allemaal een unieke en persoonlijke ervaring bieden.
Isolatie, testen of reisformulieren zijn geen vereisten meer voor alle aankomende bezoekers. Dit is de zorgeloze vakantie die u verdient.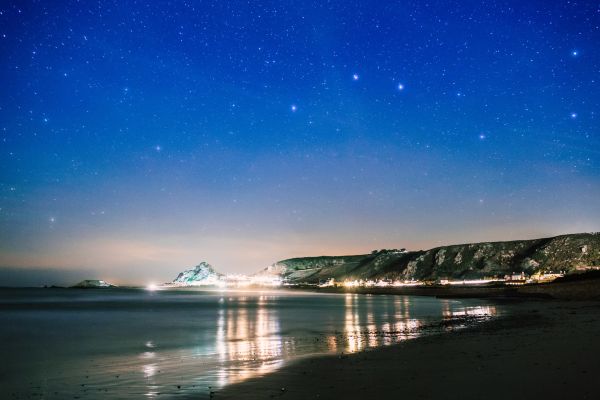 Aan de kust, de binnenlanden of in de stad?
Vind uw favoriete plek op Jersey.
Welke locatie bevalt u het best? Heeft u uw hart verloren aan de kust, bent u liever in de binnenlanden of trekt een stedelijke omgeving? Bekijk de verschillende mogelijkheden op Jersey en vind uw favoriete plek om te overnachten.
Overnachten aan de kust.
Word wakker met het geluid van de zee.
Geniet van uw vakantie op het platteland.
Vind uw perfecte verblijfplaats.
Ontdek diverse accommodaties in de stad.
Bezoek Jersey's hoofdstad, St Helier.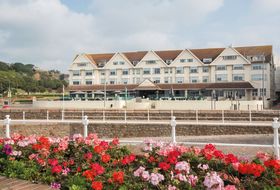 Grand Jersey's bedrooms have been design led, which means that sophistication and comfort go hand in hand. There are 108 bedrooms, including six suites, giving you a choice of spaces. Whether it's a couple or a family, you will find the ideal room for you. Many of the bedrooms offer ocean views and all are fully air conditioned.
from £125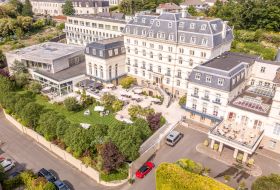 The four star hotel and spa offers an extensive choice of facilities. Our luxurious Ayush Wellness Spa and Healthhaus fitness centre are complemented by our award-winning gardens and our La Terrasse Restaurant & Bar, with spectacular views of the sunset from the al fresco terrace.
from £110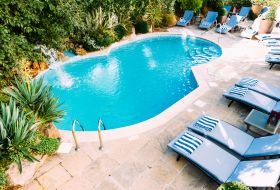 The Club Hotel & Spa is a stylish boutique hotel with Michelin starred Bohemia Bar & Restaurant, the luxurious Club Spa with indoor and outdoor pools plus a thermal suite, Gin-honesty Bar and rooftop cocktail garden. The 38 Deluxe Double Rooms and 8 Suites benefit from plenty of natural light and include crisp white Frette linen and feather beds.
from £100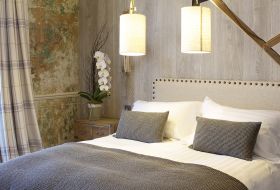 A European-style grand brasserie, located in a restored historic building in Jersey's town centre. Formerly a Victorian gentlemen's' club, 8 Beresford Street now boasts the stunning Banjo restaurant, four boutique hotel bedrooms, and a beautiful cocktail bar.
from £80