When it comes to antiques, there isn't much that Adrian Higham and his partner Tara Franklin don't know. Adi is one of the much-loved antique experts on the popular BBC1 TV series The Bidding Room, whilst Tara shares her expertise with shoppers at Hoof Brocante UK and Tara Franklin Antiques.
We invited the couple to Jersey to explore our niche, unique and quirky retail gems – with a few foodie delights along the way too. They made the short hop over with Condor Ferries bringing their car to make sure they had plenty of boot room to bring back all over their island treasures!
To make their shopping break a truly memorable experience, they stayed in the charming cottage at Longueville Manor.
Presents, pampered pets and pastries to die for...  
Adi and Tara's first stop was Ransoms Garden Centre, in the eastern parish of St. Martin. Family run since 1966, Ransoms is a true Jersey institution. The friendly team know everything there is to know about their stock – from plants to home furnishings, gifts and pet-friendly products. Adi and Tara were shown around by the three sisters of the current generation, who now run Ransoms.
Adi loved the whole atmosphere, he said "when you visit these places in the UK you often feel they are quite 'samey' – but this had a different feel about it, and you could tell that the team were passionate".
Adi and Tara also popped into The Potting Shed Gift Shop, just next door to Ransoms, browsing the fabulous selection of clothing, gifts and homeware, including well-loved brands such as Emma Bridgewater, Neals Yard, Alex Monroe and Jellycat.
Lastly, they were treated to a warm welcome at Ransoms Tearoom & Restaurant, a cosy post-shopping spot that serves up breakfast, brunch, lunch and afternoon tea in a buzzing and friendly atmosphere. Tara was in awe at the size of the cakes, which the tearoom is well known for.
Tara said their visit to Ransoms Garden Centre and The Potting Shed was "a real experience and one they didn't want to leave".
Comfort, colour and creativity.
Next, Adi and Tara made their way to The Loving Chair Company, in bustling St. Helier, Jersey's pretty market town.
TLC is brought to life by a three-generation, international team, stretching from Grandma Celeste in Lisbon to daughter Alex and Grand-daughter Brontey based in Jersey, to the manufacturing team housed in their Porto based factory. This fabulous troupe of in-house designers, artists and makers hatch new, innovative ideas with a sprinkling of fun to bring love, laughter and colour to interiors. TLC's own designs are housed alongside an eclectic collection of home accessories, lifestyle gifts and an abundance of cushions.
Adi and Tara were quite taken with this local company. They said "TLC is the perfect name for this shop – Brontey and Alex were so passionate and the fact that it's a mother and daughter team made it feel very special. If you're looking for a designer led piece, unique to you, this is the place".
Hidden treasures and tasty platters.
Leaving St. Helier behind Adi and Tara drove through Jersey's pretty country lanes to the parish of St. Lawrence. A genuine family business nestled in the rural heart of the island, The Hidden Garden truly is a hidden Jersey gem.
As you'd except, there are flowers and plants galore to be found, alongside a fabulous range of garden inspired gifts and homewares. Adi and Tara were "blown away" by it all after taking the time to explore the idyllic grounds and the garden buildings which house the various collections.
The food at The Hidden Garden was the biggest surprise for Adi – "drive into an unassuming carpark – hold your breath as you about to enter a food sensation". It was the best food he had ever eaten in a greenhouse! Adi is referring to the delicious fare made by Gemma at Wild Health who 'pops up' in 'The Greenhouse' every Friday and Saturday, serving a range of drinks and healthy bites, alongside platters which you can pre-order for a leisurely lunch to share with friends. With tables inside and out, you can tuck-in, whatever the weather.
Unique antiques.
A visit to an antique shop on their travels was naturally a must for antique experts Adi and Tara. Stephen Cohu Antiques in St. Lawrence is an absolute treasure trove which just goes on and on. Dealing with antiques as far back as the 17th century to the present day, the team are experienced antique dealers, serving customers throughout the Channel Islands and further afield. Adi suggests putting aside a good bit of time to explore at Stephen Cohu as it "is a real Jersey gem" housing some of the nicest pieces they had seen in a long time. He said "You have to go – good parking and a Jersey visit must". Whether you are a dealer, an enthusiast or just an interested shopper, you're bound to find the perfect item for your collection or home.  With so much to explore, it may take a while though!
A final flourish.
All good things, of course, must come to an end and the final stop-off on Adi and Tara's tour of Jersey's retail gems was The Harbour Gallery. Nestled in the picturesque and charming harbour of St. Aubin, this shop come exhibition space and café is a joy to explore. Spread over three floors, Adi and Tara wandered around browsing the prints, paintings and ceramics created by over 100 local artists.
Tara's verdict and advice? She said it "was impossible not to be tempted by the hundreds of treasures… just relax and take it all in". Sadly, Adi and Tara's missed out on the chance to try the fabulous food from the gallery café and deli as they had a ferry to catch. But if you are visiting, make sure to stop for a spot of lunch or afternoon tea. The cake selection is quite something!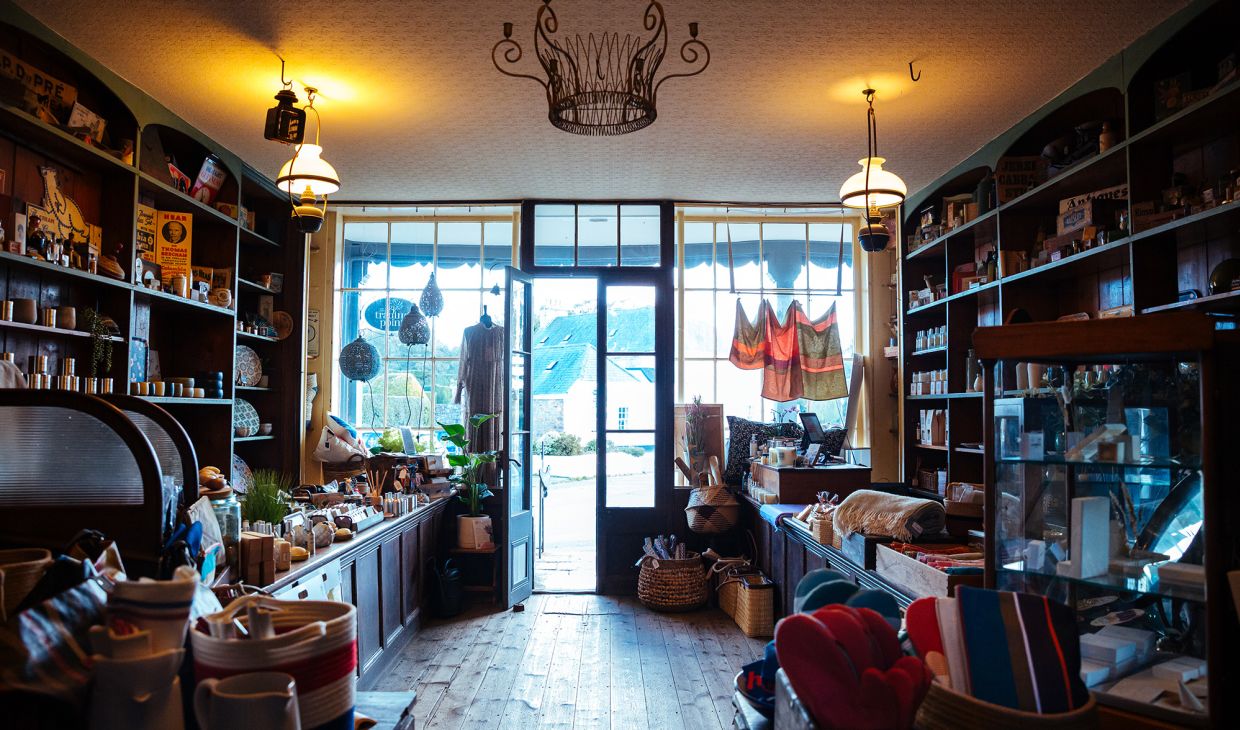 Snap up more shopping inspiration.
If you've been inspired by Adi and Tara's tour of Jersey's retail gems, make sure to check out our Three Days of Retail Therapy in Jersey itinerary.
You might also like...