Gazing up at the night sky has the power to inspire and revive the soul. Stargazing is an ideal tonic for the stresses of everyday life. In Jersey you'll discover magical spots to roll out a blanket and get ready for the galaxy to put on a show. From remote castle ruins to magical walks with stars above and at your feet, you'll want to stay up all night to experience the splendour. Here are just three ways to enjoy the night sky in Jersey.
Sleep under the stars and find unique stays to spark your imagination.
What better way to experience the night sky than to pitch up and stay outdoors? There are plenty of campsites to choose from in Jersey, you can even get really wild and choose glamping at Jersey Zoo and wake up to the sound of lemurs and other animals. You'll also find small family run campsites that would make the perfect base for your Jersey holiday. Stay with Jersey Heritage or The National Trust for Jersey and discover some truly unique places to call home during your break. From your very own fort to a beached boat and a radio tower overlooking La Corbière Lighthouse, these are the locations to choose if you really want to get away from it all. They are also the perfect venues to sit back, relax and take in the spectacular night sky from the comfort of your own doorstep (or tower window!).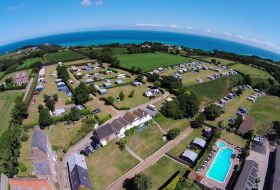 Rozel Camping Park is a well-established family owned and managed park offering exceptional value and service to our clients. It has been run by the Germain family for over 45 years and awarded with five Pennants by the AA with a very high quality score of 89%.
from £16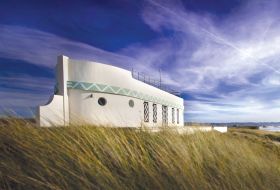 The iconic Barge Aground is uniquely positioned in the stunning St. Ouen's Bay with direct access to the beach. Built in the 1930s, this is the last of the seaside follies and chalets which once lined the bay. The décor has a 1930s theme, with walnut wooden floors and some original furniture.
from £182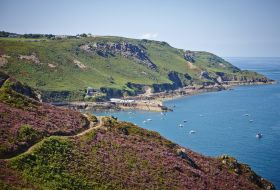 Jersey Campervan Hire offer an ideal way to view our beautiful island, with a few days glamorous camping in a classic VW Campervan. You have your house and transport in one, and a big smile on your face. Great for short breaks or simply as transport for watching the ocean rollers crashing in whilst sipping hot tea or a cool glass of wine.
from £100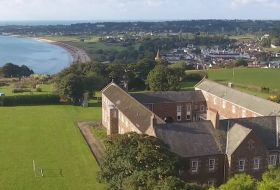 The Bay View Camping Field is part of the JAAC-Hostel based in rural St. Martin, just above the Port of Gorey. The site offers splendid views over the Royal Bay of Grouville and captures the sun most of the day. A quiet, back to basics camping experience you won't forget.
from £13
Stars at your feet.
Only when the tide recedes to the horizon can you venture out on a tour with Jersey Walk Adventures. Their walks take you into Europe's largest rocky intertidal zone and Ramsar Wetlands – the marine version of the Jersey National Park which is teeming with wildlife. All their walks are special but to make the most of the night sky, head out on one of their night-time excursions in search of tiny creatures that glow like fireflies. It's an enchanting experience to have stars above your head and at your feet.
A castle at night.
The ruin of Grosnez Castle sits on the rugged north coast of the island with panoramic views to our neighbouring islands. Few know that this location is a magical stargazing spot. Bring a rug, wrap up warm and watch the night sky come to life, natural and unpolluted from artificial light.
You might also like...