A small island, but packed with opportunities for adventure; in Jersey you're never more than a few minutes away from the coastline. The island's landscape opens up a whole natural playground of water, land and wind-based activities.
Nature lovers become island explorers, discovering the unspoilt beauty of Jersey's stunning landscape and if you're a seaside adventurer, the ocean awaits! Brave the waves in one of Jersey's famous surf spots, swim and splash in the sea, explore our beautiful beaches, tread the paths of Jersey's north coast or take on a gruelling hill climb by bike – however you decide to get active, you'll find that Jersey is an adventure playground all year round. The ideal destination for active holidays.
Discover your own pace on active holidays in Jersey.
Jersey has an incredible range of pursuits to suit every explorer. Whether you're looking for an invigorating adventure or a slower paced outdoor experience, there's always plenty of things to do.
Where to rest your head after full on days.
From beach side guesthouses and coastal camping to boutique hotels and spa retreats, however you like to do R&R on your active holidays, you'll find your perfect base here. Explore all the places in Jersey to rest your head and call home during your stay.
Spectator sports.
With world-class sporting events taking place around the island, you don't need to participate to be able to join in the action. Don't miss out on taking to stands and soaking up the atmosphere.
Events to get you moving in the great outdoors.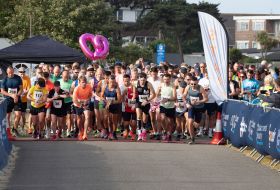 The Canaccord Genuity Jersey Half Marathon is a coastal road race with stunning scenery. A couple of hills thrown in to give you the best views of the coastline. Maybe not the fastest road race but the atmosphere and views make up for that! Started in 1989 The Jersey Half Marathon is now in its 35th year.
from £29
Booking needed
Jun 09 2024
Ideas for days out on your active holidays.
Active weekend breaks.
An outdoor adventurer's weekend guide to Jersey. Load up on activities in epic landscapes in Jersey's natural outdoor playground.
Take a minute to soak in the views as you explore.
Share your adventure snaps with us by tagging them with #TheIslandBreak.