If you're looking for a one of a kind island adventure, then taking to the seas with expert Kayak Guide David Priddis (aka 'Kayak Nomad') could be just the ticket.
Exploring Jersey's coastline from sea level offers a whole new perspective on the island. Discover hidden coves, secret beaches, idyllic offshore reefs and historic coastal defence towers, propelled by your very own paddle power. Plus, you get extra kudos for choosing an environmentally friendly way to explore our beautiful island 😉 Everyone wins.
So, hop aboard as we meet David and find out more about how to get involved with his epic Kayak Nomad adventures.
Meet David.
Owner and trip leader, Kayak Nomad.
Hello, I'm David. I am a lifelong sea and surf kayaker who loves being out on the sea. I run kayaking tours and day trips from many locations around Jersey. Including offshore trips to historic towers and reefs.
I love kayaking in Jersey because of the diversity the different disciplines of the sport offer, along with the amazing places it can take you.
What makes Jersey a great place for anyone looking to bring a little adventure into their lives?
Jersey is a perfect environment for mini adventures. It has a very varied coastline, from cliffs and caves in the north to wide open sandy beaches in the south. Combined with our high tidal range, you can pass the same spot at two different times of day and it's totally different to paddle. Throw in a history of 10,000 years of human settlement and there is something new to see round every corner.
Experience perfect isolation.
Seymour Tower, a historic coastal defence tower located 2km off Jersey's east coast, is one of my favourite places for an overnight stay. Watching the water surround the tower as it comes in gives you a very real sense of isolation while still being in sight of the island.
Which trip is right for me?
Whether you're a seasoned kayaker or completely new to paddling, Kayak Nomad will make sure your island kayak excursion is safe, fun and comfortable.
Kayak Tour – Session times to choose from are 10:00, 14:00 and 18:00 (May to August), sessions last 2.25 hours, with 1.5 hours on the water.
Day Trips – Start at 10:00 and finish 16:00, 30 min gear up and launch, 2 hours paddling, 1 hour lunch, 2 hours paddling, 30min land and packup.
Guided Journeys – This is for me to plan and guide you in your own craft around the beautiful coast of Jersey or the outer reefs. Max. group size 6 paddlers, but this can be expanded if there are other qualified leaders in the group.
One of my favourite paddles is from St Brelade's Bay along the coast to La Corbière. You get to pass through Beauport Bay, which is one of our prettiest beaches on the island, especially at high tide. Then you can pass through gullies, past rock stacks and headlands, spotting Napoleonic and German fortifications along the way. Then when you arrive at La Corbière Lighthouse you get to see it from an angle few get to enjoy. It's a true icon of the island and also the first concrete lighthouse built in the British Isles.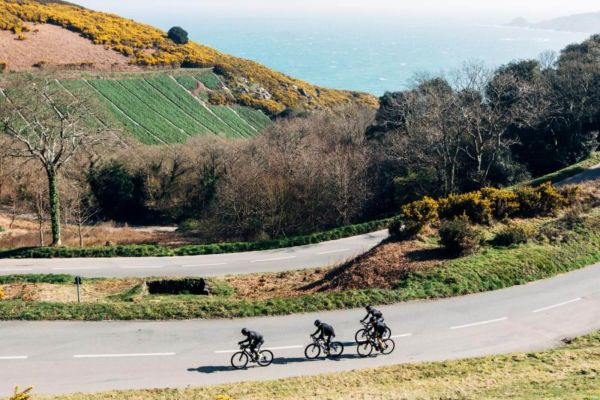 You have a weekend lined up without any kayak trips. What will you get up to?
Probably go kayaking 😅 When you run trips and coach other people you still have to make time to keep your skills sharp and go have your own fun. But if bad weather forces me to stay on land, then I do enjoy cycling and running too.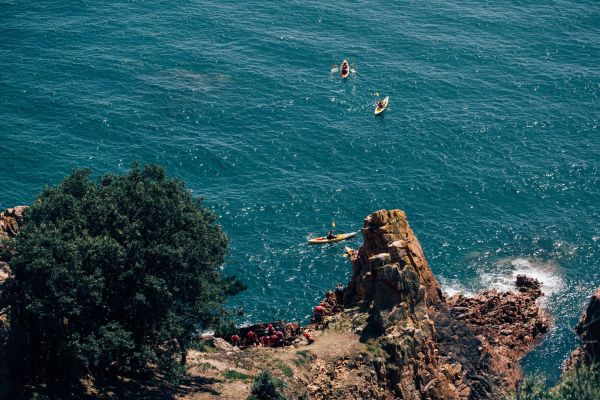 What type of kayak would I need for kayaking in Jersey?
Jersey's waters are best paddled in by sea kayaks or touring kayaks. These tend to be longer and narrower than recreational kayaks, making them faster on the water. Kayak Nomad's fleet of Valley Avocet sea kayaks are the perfect playful and fun day boat, for the average paddler wanting to discover the islands coves and gullies.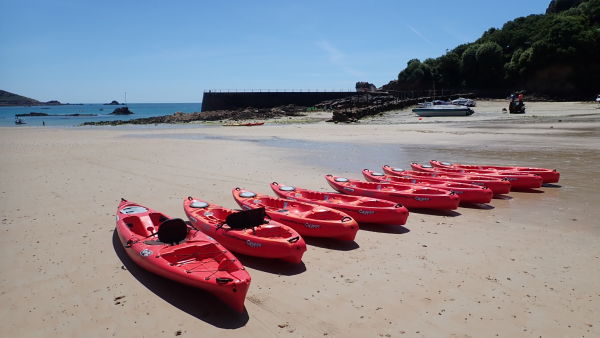 Kayak Hire In Jersey
Kayak Nomad and our other activity providers offer kayak hire for those just looking to grab equipment and take to the seas.
You might also like...