Home to one of the largest tidal ranges in the world, explore Jersey's archipelago and discover a submerged coastal landscape of reefs and islands, revealed at low tide. Walk, wander and swim around this unique habitat before it's reclaimed by the sea. Just a short ride in a RIB will speed you out to Les Ecréhous and Les Minquiers, some of the largest unexplored areas in Europe where miles of reefs, sandbanks and rocky islands are revealed at low tide.
Away from the sound of everyday life, it's a quiet space of withdrawal with the invigorating salt winds of the sea punctuated by wild seabird calls. It's a space to wander and a place to experience rare habitats revealed for just a few hours every day.
Les Ecréhous.
Just six miles off the east coast of Jersey, it only takes 15 minutes on a thrilling RIB ride to arrive at Les Ecréhous, a network of reefs and islands. France is so close you'd be forgiven for thinking you might be on French soil. The islands are, however, part of Jersey.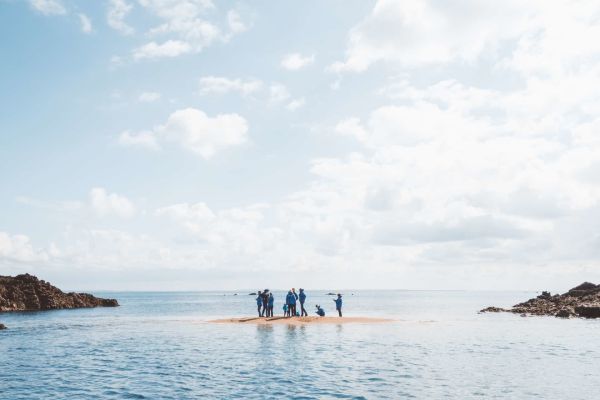 Les Minquiers.
The sandbanks of Les Minquiers span a larger area than Jersey and curl around crystal clear lagoons – on a sunny day you could be on a tropical island straight out of the pages of Treasure Island. The islands and reefs of Les Minquiers lie just nine miles south of Jersey.
A paradise for wildlife.
Jersey's archipelago is home to a whole host of wildlife. The eagle-eyed will spot terns, oyster catchers, cormorants and curlews – as well as bottlenose dolphins and grey seals.
Owners of Jersey Seafaris, Josh Dearing and Dan Luce say:
'The Ecréhous is paradise right on Jersey's doorstep. You have it all, dolphins, seals, crystal clear water and beautiful golden sandbanks. The bottlenose dolphins, which are resident to the Channel Island area, can be seen on over a third of our trips. These highly intelligent mammals will often approach and interact with the boat, an experience for all onboard to marvel at. With such a spectacular natural environment it won't surprise you that the Ecréhous is a protected area and needs to be treated with the utmost respect.'
It's also an area with rich history – the fishermen's huts and islands that make up Les Ecréhous were named by the Vikings with a name that means 'rocky islands' in the Norse language.
It's a unique area, as Josh and Dan explain:
'The massive twelve metre tidal range in Jersey means that every time you visit any of our coastal areas the experience is different. All of our archipelagos have very unique heritage and it's always a pleasure to deliver this information to our passengers.'
Discover island-hopping with a difference – and get a chance to glimpse dolphins. A trip out to Jersey's archipelago of islands and reefs adds a unique dimension to a Jersey stay.
How to experience it.
Jersey's archipelago is easy to get to and a wonder to explore. Getting there is half the fun. Local adventure companies take visitors out to the area in fast RIBs with a full schedule of tours to choose from. How about meeting an experienced kayak guide out there and taking your archipelago adventure to the next level? Discover some of the companies who can help you experience this iconic Jersey activity.
Don't just take our word for it.
Explore photos taken by visitors and locals.
You might also like...