Jersey is an island with an abundance of independent spirit. Part of the British Isles territorially, our island has its own unique laws, traditions and customs – and even our own goverement. As you'll soon realise when you visit our shores, we like to do things with our own Jersey twist.
This also applies to the visionary movers, shakers and creators of the island who have gone their own way, creating an island full of independent joy to discover. Find local artists who have taken up residence in quirky harbourside studios, innovative shop-owners with a sustainable take on gifting, burgeoning bakeries serving up delectable twists on much-loved classics and pioneering restauranteurs who strive to serve up the real flavour of Jersey in every bite.
So, if you're looking for independent shops, restaurants, cafes and craftspeople to check out during your next visit to Jersey, let this be your handy guide.
Independent shops in Jersey.
Shop 'til you drop.
If shopping is your bag, then you'll want to get a trip to Jersey lined up soon. Our bustling market town of St. Helier is the heart and soul of the island, with independent shops galore to explore. Our high street is alive and kicking, with glorious independents like Harriet and Rose (check out her insider's guide to Jersey's indie scene here), Maison de Jersey, Wild Atlantique and Pebble peppered along the main thoroughfare. Wander a little further and discover gems like Amélie, the Pretty Okay Candle Company, Jersey Skin and TLC.
At our traditional Victorian Central Market, in the heart of St. Helier, chat to cheerful fruit and veg stallholders, delve into delectable delicatessens or pick up vintage treasures and colourful ceramics. Outside of town, there is plenty to discover too. The Trading Point in St. Lawrence is a treasure trove of independent brands and makers; SCOOP, just up the road, is packed full of organic, package-free produce; at The Goosberry Bush in St. John you'll find a fabulous selection of clothing, gifts and homewares.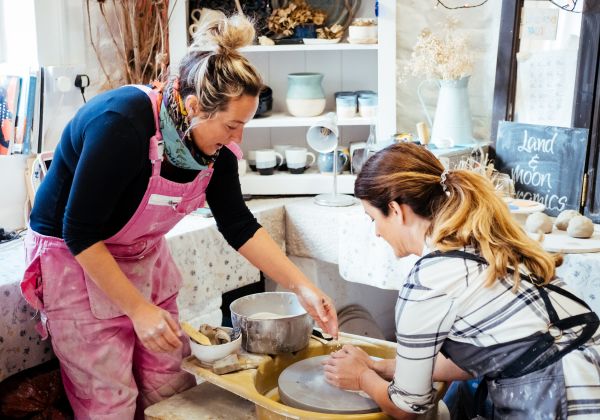 Our island may be small, but when it comes to creativity, we pack a mighty punch. Local artist Abi Overland's intricate designs have been featured in the likes of Vogue. Pick up her pretty prints and ceramics in her De Gruchy's pop up, or at various markets throughout the year. Fancy getting a bit arty yourself whilst you're visiting? Then head up to ArtHouse Jersey's beachside HQ at Greve de Lecq Barracks. Try your hand at print-making at community print room Luddite Press or have a go at throwing pottery with Land and Moon Ceramics. (Check out Shelley from Land and Moon's Inside Scoop for top tips on enjoying the island like a local). The Harbour Gallery and Jane James Ceramics both overlook St. Helier's old harbour, and are home to a palette-full of local artists and the perfect spot for some leisurely browsing. And head to Crafty Quilters for all the sewing supplies and haberdashery you'll ever need, with fabulous fabrics, luxurious cottons and so much more on offer.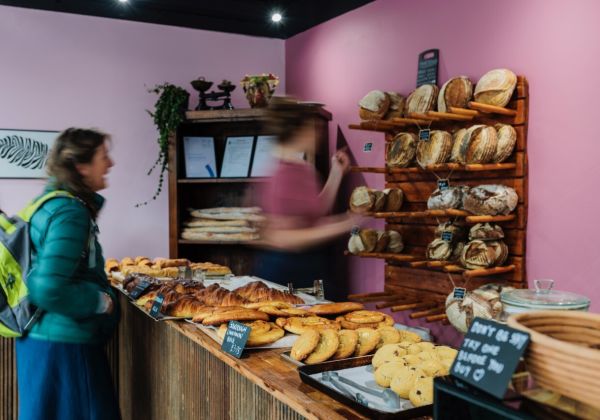 Treat yourself.
What greater pleasure is there in life than biting into a freshly baked pastry, a handcrafted cupcake or a velvety, melt-in-the mouth chocolate? Here in Jersey, there's a sweetie-jar full of artisan bakers, chocolatiers and pâtissiers crafting a delectable collection of tasty treats for your eating enjoyment. The Central Market is home to a few of them including the Vienna Bakery and Flour. Elswhere in St. Helier, follow your sweet tooth to Chocadyllic, Cocoa49.2, Ganache, Four Bakery and Bruno's. For a full-blown chocolate experience, head to La Mare Estate in Jersey's rural countryside and sign yourself up for their signature Chocolate Making Workshop and concoct your very own chocolate-y wonders to take home.
Eat and drink.
Food lovers rejoice! Jersey is jam-packed with over 300 restaurants and many of them are owned and run by passionate, independent restauranteurs who put their heart and soul into delivering delicious and memorable eating experiences for visitors and locals alike. New kid on the block Pêtchi is run by Great British Menu semi-finalist Joe Baker (formerly of No. 10 Restaurant and Bar, on Bond Street) and serves up dishes inspired by the seascapes of the Channel Islands with a nod towards the Basque Country.
Other independent foodie favourites in St. Helier include Sangria, Awabi, Crosstown, Casa Paco and The Pavillion. For beachside dining, Nude Dunes, Nude Food, The Moorings and Le Braye are all brilliant options. Enoteca in. St. Aubin, La Bouche in the Central Market, and Upstairs at Anley Street, on the outskirts of town, are all run by fabulous foodie couples. Find out here how the dynamic duos work together and (equally as impressive!) stay together.
Local Jersey produce.
From our delicious Jersey dairy to our velvety oysters, crisp apple cider to locally distilled liqueur. Here in Jersey, we're lucky enough to have a host of independent heroes growing, rearing, catching, brewing and concoting the freshest, tastiest and most tantalising local Jersey produce. Meet the makers making waves in our craft beer and cider scene, sample the delicious Jersey gelato from Blanc Pignon Dairy Farm, spend a casual Sunday morning browsing the aisles at Rondel's Farm shop or pop in to pick up some locally grown veg at Didier and Christine Helio's hedge veg stall in St. Ouen.
That freshly roasted flavour.
Did you know that Jersey folk are affectionately known as 'beans?' Well, we're not the only type around here, and the smell of the freshly ground ones wafts out of a plethora of independently run coffee houses around the island. If you're looking for a brew-ti-ful spot for your morning coffee or afternoon pick-me up then, there are plenty to choose from. In town, head to Dandy for baked goods galore; Downdog for epic bagels; Locke's, Cargo and The Yard for creative, all-day brunches; The Merchants for co-working amongst arty-types and Bean around the World for the best people-watching in St. Helier. For those seaside coffee vibes, check out The Loft in St. Aubin (whose pizzas are also to die for!) and the Seahorse Coffee Co – grab a coffee to go and wander along the promenade at Gorey.
Have you been inspired to start planning your own indie weekend to Jersey? Our Trip Planner can provide personalised recommendations based on the things you love.
You might also like...