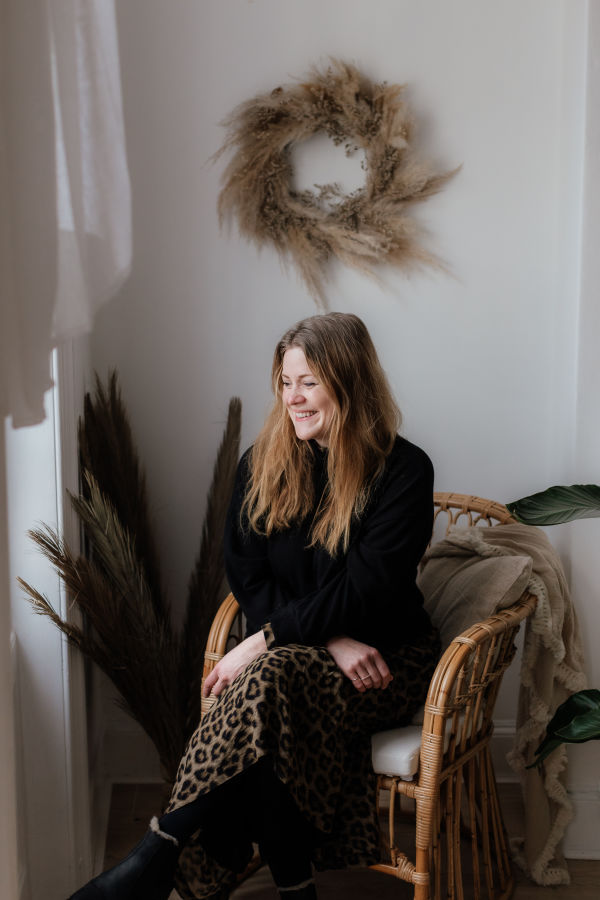 Meet Harriet.
Champion of Jersey's indie retail scene.
I opened my shop, Harriet & Rose, here in the summer of 2021 and have loved becoming part of the independent retail scene in Jersey. What is even better is that it continues to grow – with businesses moving into bigger premises, new businesses taking the plunge, and all of us working to make St. Helier a better destination, with as much shopping variation as we can. There really is something for everyone.
From clothes to homewares, gifting to beauty, St. Helier really does have a thriving independent retail community and presence. Where many high streets in the mainland are struggling to thrive, with its mix of coffee shops, eateries, cafes and shops, St. Helier really is a fabulous place to spend a day shopping. With a side of cake. There should always be the option of cake.
Geographically, St. Helier is a small town and easy to navigate by foot. With pedestrianised areas and plenty of places to stop and rest (and grab a wine or coffee!), there are also lots of treasures tucked away down unassuming side streets, so it's worth planning where you want to go and shop, so that you don't miss anything out.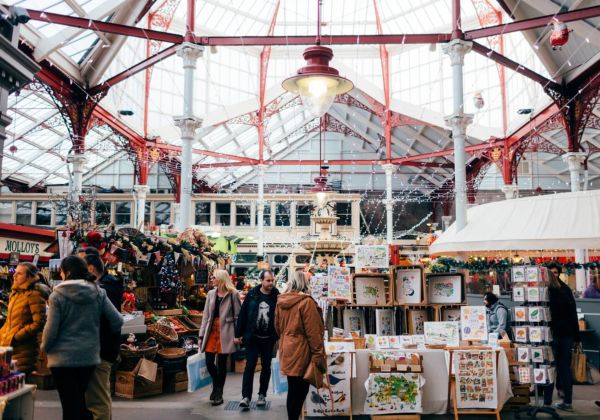 Begin your tour at the historic Central Market.
Starting at the Central Market (parking in Minden Place for a maximum of three hours), you'll be able to wander round the flower stalls and produce. If you're into cheese, then Relish is well worth a stop as their produce is top notch. Whether you fancy a smoothie, a sandwich; chocolates or a coffee, it's a charming place to start your tour of independent shopping and food in St. Helier. Little Wren has an array of giftware, and if you head out of the Market Street exit, you'll find Love Bird Pottery Studio (fantastic for getting the kids involved with souvenirs), and flowers aplenty at Eden by Claire. You'll also spy Downdog Coffeeshop on the corner of Hilgrove Street where I love to pop in for a bagel – the best in town.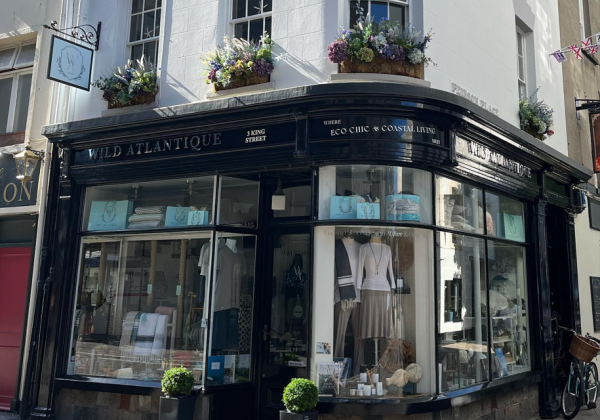 A high street of treasures.
Heading onto Bath Street, and down to 'the cows' (bronze sculptures of them that is!), Manna is a beautifully curated womenswear shop, featuring some of the most beautiful clothes. Their footwear is always on trend (and always for comfort as well as style – a must for me as someone on my feet for much of the day).
Continue on to Queen Street and you start the High Street proper. Whilst you'll spy lots of familiar brands, there are a lot of independent names too – from Wild Atlantique through to Maison de Jersey, Elizabeth Howell to Wilde Thyme not to mention our department stores, Voisins and de Gruchy, there are so many shops that are unique to our lovely island.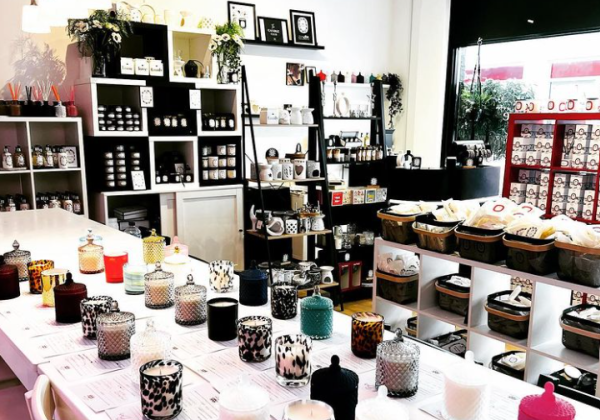 Stop and smell the candles.
Don Street is worth a diversion to visit The Pretty Okay Candle Company. Just follow your nose and you'll find it! The array of candles that they offer (all hand-poured in Jersey), means that you cannot fail to find something that you like to take home! If you have time, consider booking into one of their workshops to concoct your very own candle creation. Head a little further down, and you'll also find designer womenswear store Nautilus. Stocking Onjenu and Dea Kudibal (amongst others), they have unique seasonal selections.
Brasserie Colmar on King Street is a recent addition to our High Street. With an outside eating area, and an unapologetically French menu, it's an ideal place to stop for a pastry, lunch or dinner. Further along King Street, towards 'The Toad' (another of our animal statues!), is Harriet & Rose where I can usually be found! Mostly because it's my shop, and I work there, but even on days off, I quite often pop in. With both local Genuine Jersey makers, and an array of independently owned creative businesses and more books than a small bookshop (almost), it's a lovely place for a browse and a chat! You'll also find a range of ruder/funny cards on the first floor. You have been warned….
Coffee stops essential.
By now you'll definitely be after some more coffee, and one of my favourites is Locke's down Pitt Street. Properly good brunch, and absolutely brilliant coffee (you can buy the beans to take home too, and it's my daily fuel), it's one where we always gravitate towards. Before you do stop for coffee though, Pebble on the corner is the perfect place to stop for a browse. Scandinavian brands of homeware, clothing and furniture all make for a beautifully curated, calming shop. They also offer interior design assistance.
In case you fancy stretching your legs a little more, Jersey Skin is a bit further up past the Town Hall. A business founded during lockdown, all their skincare is made here in the island, often using local botanicals. It also smells amazing! (Closed Mondays).
Liberty Wharf is a five-minute walk from the High Street (and home to the bus station). If you are into running, then Rock and Road is absolutely somewhere you need to go. Not only do they offer comprehensive gait analysis, but there are also run groups and trail running sessions. They are genuinely lovely and helpful whatever your level of experience. Sports shops can feel intimidating, but here they just want to help you get out running!
Looping back towards your start point, and just in case you have not eaten yet, The Yard at Jersey Museum is another excellent eating and drinking option. It's also so worth checking out The Jersey Museum as well if you have time (or if it does something like start raining… it happens once in a while).
Where to wine and dine.
If you follow Conway Street back towards the high street, you will pass Bond Street on your right, home to Number 10 Restaurant & Bar. It is my favourite 'special' meal place. With an amazing menu (both a la carte and tasting), they have a cosy bar downstairs where you can also dine, and a more formal (but still nicely relaxed) dining room upstairs. Keeping things seasonal, fresh, and with a real passion for what they do, if you are after a special meal, this is the place to book.
If you have reached the point in the day when one of you wants wine, and the other a good coffee, then Vinifera on Broad Street is the perfect compromise! And offers excellent options for both.
The beauty of St. Helier is that it's small, it's accessible, and it's full of independent businesses who really want you to have a memorable shopping experience. Take the side streets! Browse the department stores! Stop for lots of delicious coffees and snacks! And enjoy.
Happy shopping!
Harriet x
You might also like...