For such a small island, Jersey is globally famed for many things; our beautiful doe-eyed 'Jerseys' and the Jersey Royal, our prized potato. Along with an abundance of fresh, seasonal produce, we're also incredibly proud to have a vast variety of skilled local craftspeople and artists. To celebrate this and to promote the diversity and quality of local produce and products a unique organisation was established – Genuine Jersey, a hallmark of island life.
When out and about exploring the island, don't forget to look for the Genuine Jersey mark, a guarantee of local provenance. Explore just a few of the amazing local producers who are proud to say they are 'genuinely Jersey'.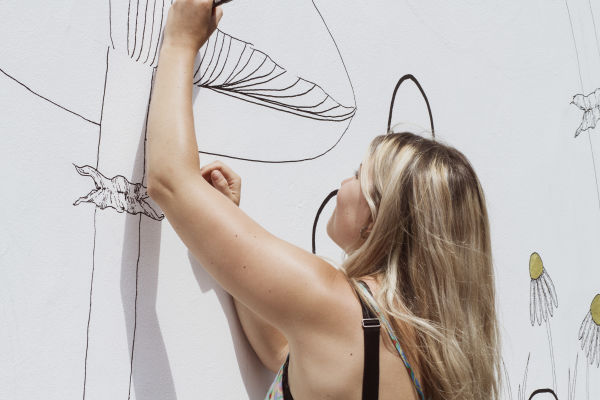 Local artist and illustrator.
Abi Overland.
When you look closely into any of the illustrations created by local artist Abi Overland, you'll be filled with curiosity and a sense of wonder, look deeper and you'll lose yourself in the timeless detail and depth.
Locally born Abi graduated with a BA (hons) in illustration from the university of Brighton and now back on island, heads up a luxury homeware and art print brand.
Abi's fine bone china and glassware collections are particularly popular, and nothing tastes quite like a blend of Jersey Fine Tea in a beautiful Abi Overland cup.
Didier and Cristine Hellio – Hedge Veg means food metres not miles.
Locals may take it for granted but 'Hedge Veg' is just one of the many special things about island life. Wander through the leafy lanes and you'll soon happen across a hedge veg stall, stocked with anything from Jersey Royals, local asparagus, strawberries, eggs and flowers to cakes and Jersey Wonders.
One of the most iconic roadside stalls is that belonging to Didier and Cristine Hellio, a local husband and wife team who've been married and working together for almost three decades.
Situated out in the west of the island in rural St. Ouen, here you'll find freshly picked produce from the Hellio's 350 vergée farm. Royals, cabbage, onions, leeks, sweet potatoes and much much more overflows on the wooden stall where you leave payment in the honesty box.
Find Didier and Cristine's roadside farm shop at Manor Farm, Vinchelez, St. Ouen.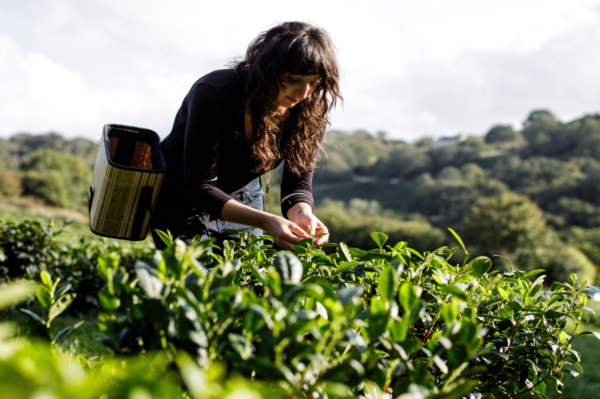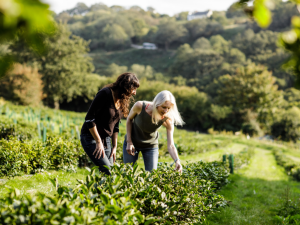 A Fine Genuine Jersey product.
Jersey Fine Tea.
When you think of tea plantations, Jersey is not necessarily a place that springs immediately to mind, so you may be surprised to know that the island is actually home to six acres of tea fields. Jersey's gentle marine climate is perfect for the Camellia sinensis tea bush, rather than the typical steamy tropical conditions required to grow some tea, a cooler climate encourages this particular plant's roots to reach deeply for the natural nutrients in the ground, this then enhances the flavour of the finished tea which tastes of its unique terroir. The tender new growth of Jersey Fine Tea is hand plucked before being processed either by hand or with traditional tea equipment.
White, green or black – which will you sip and savour?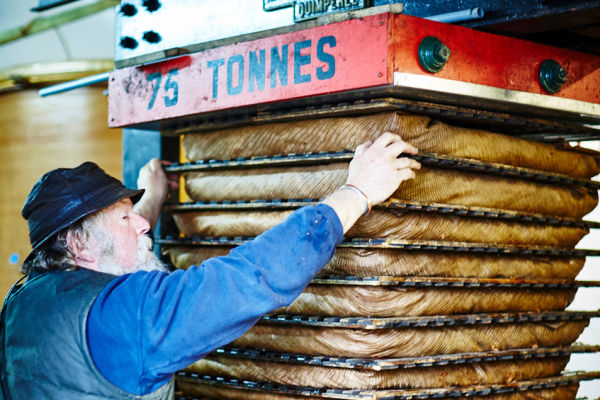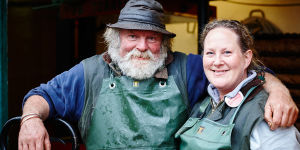 The Cider Maker and his wife.
Artisan cider and sensational sausages.
As the days shorten and the leaves turn to shades of red and gold, Autumn comes to the island marking the time of year for Richard the Cider Maker and his wife Sarah to rally their merry team to harvest the best local cider apples from orchards across the island; and so the process of creating the award winning La Robeline Cidre dé Jèrri begins.
Made in a traditional French fashion on authentic, restored equipment, nothing is added to the local apple juice which is fermented on the natural yeasts found in the apples.
Alongside their cider production Richard and Sarah are also renowned across the island for their special 'La Robeline Saucisse' made by Sarah to her own recipe of pork and a simple, but secret, blend of seasoning.
Now you've had a taste of Genuine Jersey, explore even more island producers.
Anita Eastwood – Painter.
Originally from Somalia, Anita settled into island life in Jersey in 1991. Anita believes that Jersey is a beautiful island and a fabulous canvas for ideas, her works are mainly created in watercolours and acrylic and she has recently begun creating work on local slate. Visit Anita and select a piece as a souvenir of your island break.
Jane James – Designer and Maker.
Jane James is an award-winning artist who has become one of the best-known ceramic designers in the Channel Islands. Her wonderful work draws inspiration from the beautiful coastline of our island, with bright ceramic pieces featuring a magical lustre finish that perfectly captures the shimmering colours of the surrounding sea. Many of her pieces are mounted on local driftwood collected from the island's beautiful beaches.
Woodlands Farm – Dairy.
The Le Boutillier family have been milking Jersey cows and growing Jersey Royal potatoes at Woodlands Farm for five generations. Nestled in the heart of the island less than a mile south of the centre stone, here you can not only see the herd grazing happily in the green fields surrounding the farm, but you can enjoy the delights of the Potato Shack café serving amazing local and seasonal dishes. Browse the butchers shop in the farm courtyard, sample the sublime artisan products from La Crémière Kitchen and don't forget to pick up the freshest produce from the honesty box as you leave.
Liberation Brewing Co. – Ale.
The Liberation Brewery have been brewing up a storm in the Channel Islands for 150 years. Today Pat and the team take great pride in crafting unique and distinctive award-winning beers using the finest ingredients. Quaff an ale at one of their many bars and pubs found all over the island. Cheers!
Jersey Oak – Retail shop St. Helier.
Visit the Jersey Oak showroom to view a fabulous range of beautifully hand crafted, sustainably sourced, home and garden products, home accessories, gifts and more. Maybe a traditional 'Jersey marriage stone' crafted in oak will tempt you; or how about chopping board styled in the shape of a Jersey cow to remember your island break?
Rosemary Blackmore – Bluestone Studio, Artist.
Reminiscing on her childhood in Jersey, Rosemary remembers fun-filled days in or on the warm waters surrounding the island. The changing light, colour and moods of the sea continue to fascinate and inspire her artwork. You'll find examples of Rosemary's distinctive paintings, prints, ceramics and textiles in galleries and stores across the island.
Vienna Bakery – Bakery products.
There is nothing quite like the aroma and the taste of freshly baked bread and pastries and there is nothing quite like the goodies on offer from Vienna Bakery.  Vienna Bakery was founded in 1960 by Bob Dodge. In addition to being a master confectioner and baker, Mr Dodge was skilled in the art of Viennoiserie, a baking process developed in Vienna in the 19th century – hence the name of the bakery.  Today, Bob's son, David, together with close family and skilled staff carry on the cherished traditions employed by Mr Dodge senior decades ago.
Wild Thyme – Florist.
Clara Barthorp is the owner and creative director of local floral design studio Wild Thyme. Passionate about creating floral designs which fuse a natural, organic feel with luxurious, timeless elegance her stylish studio where stunning, ethically sourced homewares are sold in conjunction with beautiful fresh flowers is a feast for the senses that's not to be missed.
You might also like...