Jersey may be pint-sized, but when it comes to craft beer, ales and cider we punch well above our weight. Independent breweries helmed by talented Jersey makers have been popping up in recent years much to the delight of local craft beer and cider lovers. From 'Island Craft Lager' to 'Beached Whale Pale Ale' and 'Cream DDH IPA' there's a whole range of delicious beers and ales to get hoppy about here in Jersey. Sample them for yourself at our beachside bars, country pubs and quirky backstreet bars or pick up a six pack in one of our local supermarkets and head to the beach to sink a cold one as the sun sinks over the Atlantic ocean. Sound good? You bet it does. We caught up with the founders of some of the island's cracking local breweries to find out how it all started and where you can try these brilliant brews for yourself.
Our Beer, Your Adventure.
Stinky Bay are all about encouraging people to get out and explore something new – whatever that may mean for you. For them, it's in the outdoors, biking, hiking and squeezing every bit of adventure out of life at every opportunity.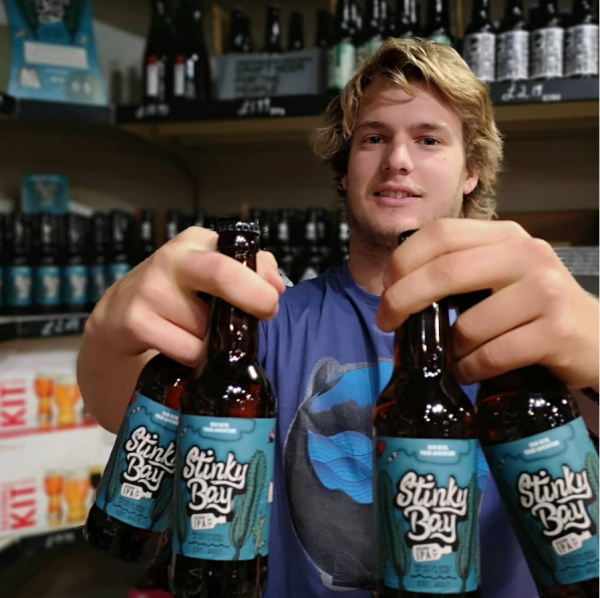 Tell us a bit about Stinky Bay. How did it all start?
We, myself (Matt) and Digby, conceived the idea of starting a brewery while travelling in British Columbia – a place of world class beers. Visiting all the small-town microbreweries had us scratching our heads; why on earth wasn't there a better offering of beers back in Jersey? So, after a significant volume of delicious beers, and a far-flung plan sprawled on the back of a napkin, we came up with a world beating formula…. Though, in the sober light of morning, safe to say, we shelved the idea as another far fetched dream.
However, once seasonal work came to an end it looked like we would both end up in Jersey at the same time. Wondering as to what we could do, the hop-fuelled napkin idea came back into the  conversation – and as they say, the rest is history!
Digby has since moved on to different pastures, but we're still the best of mates, and I manage the brewery along with a little help from family and friends.
The last couple of years have had many ups and downs – ruined beer and "eureka" moments – but there's still nothing I'd rather be doing than figuring out what this company wants to be when it grows up! And tinkering with that next brew!
You've brewed, blended and bottled a plethora of flavours. What beers have you got fermenting in your brain for the future?
I'd really like to release a low or alcohol-free beer. I gave it a go at the start of summer with a 2.4% Pale Ale. It went down well for a first attempt and I'll certainly be tweaking it and bringing it out in another form in the future!
To the right, one of Stinky Bay's flagship beers - Shipwrecked NEIPA.
As a lover of beer, what's your recommendation for some great beers to enjoy?
I'd firstly recommend trying any local beers that you can, you might be surprised at how many there are dotted all over the UK and further afield. It's hard to recommend beers as people's tastes are so different; however, I've recently been to New Zealand and enjoyed sampling all of their small beers – beers under 3% ABV. In the UK – Clearhead by Bristol Beer Factory is one of my favourites!
In your opinion, what's the best place in the island to crack open a cold one in the sun?
If I told everyone my favourite secret spot, it would be mobbed! Number two would definitely have to be down in St. Ouen's Bay, early evening on a spring high tide with a little longboard wave.
Drink some beer, plan your Jersey adventure.
Smile, experience some Bliss.
Bliss Brew Co. is the crowdfunded passion project of Josh Band and Marcus Calvani, the brains behind Jersey's first craft beer bar, JB's Brewhouse, James Carter, local artist and graphic designer, and originally, home brewers Ben and Leah Bliss who previously spent the best part of decade obsessing over beers, resulting in a recipe book over 200 pages long. With the stage was set to make mouthwatering, frothy history, we asked Marcus about all things beer!
Tell us a bit about Bliss Brew Co. How did it all start?
After 12 years in the USA studying a course in craft beer production, flavour profiling and food pairing at Cornell University, my craft beer interest began! It was the early 2000s, still pretty early days in the USA craft beer boom, but I wrote my first craft beer and food pairing menu in 2003, which featured American Brewery Flying Dog. Feedback from the adventurous guests was really positive.
When I returned to Jersey in 2010, there was no craft beer availability or offering on the island so we created JB's Brewhouse, inspired by the brew houses and craft beer bars I'd visited in the US.
It seemed the obvious next step was to build a brewery business within the bar space and when we met home brewer Ben and Leah, and the incredibly talented artistic designer James Carter, we all decided (over a few beers 😅) to start Bliss Brew Co.!
Bliss was the Channel Island's first ever crowdfunded company. We were thrilled to bring over 200 investors to build our little brewery filled with shiny new tanks, great lighting and a huge glass window into JB's for all to see.
Our focus was always to brew beers that could sit next to the 300+ imported craft beers from some of the worlds greatest craft breweries that JB's imports. It is a little nerve wracking to be compared to these beers but we're thrilled with our selection over the years.
You've blended, brewed and bottled a plethora of flavours. What beers have you got fermenting in your brain for the futre?
Actually 'canned' not bottled! We've never bottled as we recognise quality craft beer leaders around the world had moved on from bottles into cans, so our first ever packaged product and core range has always been canned. The cans feature amazing artwork of Jersey by brewery co-owner James Carter and we love seeing photos of them showing up in all sorts of places, being enjoyed by all sorts of people both on island, and far afield.
We've brewed over 30 different beers since we started and we're always up for some fun. Highlights of our creativity have got to be 'WONDERBEER' which we brewed in collaboration with The Jersey Wonderer and had Jersey Wonders in it, or our Oyster Stout that was brewed with Jersey Oyster Company oysters. We brewed spiced pumpkin ales for Halloween, Christmas inspired brews, light and refreshing pale ales for the SuperLeague Triathalon, and even a coffee infused lactose pale ale with Coopers Coffee.
There's no limit to creative brewing as long as you get the flavour profiles right. We're working on a Jersey Sea Salt Gose at the moment which we are really excited about.
As a lover of beer, what's your recommendation for some great beers to enjoy?
You've got to work your way through our core range which is available in various retailers and quality independent restaurants around the island. Start with our SAINT session pale ale, follow on with our SMILE pilsner. Our signature brew is CREAM which is a double dry hopped IPA and then 'dessert' is INTERGALACTOSE, our cocoa, vanilla, tonka and coconut milk stout.
The key is great company and a great location as well, that's the ultimate!
In your opinion, what's the best place in the island to crack open a cold one in the sun?
In the summer, it's got to be the The Lido at Havre Des Pas. The building is iconic, and being surrounded by 360 degrees of blue water while enjoying a Bliss beer doesn't get any better. Alternatively, when the season is in full swing, enjoying a Bliss beer, pitch side at the Jersey Rugby Club, another ultimate local experience not to be missed. Cheers!
Enjoy a traditional Norman cider, à La Robeline.
One of Jersey's best kept secrets, hidden among the golden western country lanes, La Robeline Cider & Sausages is an award-winning, family-run artisan cider, distellery and catering team. La Robeline is at the forefront of the 21st century of revival of cider making and apple growing in the island, an important of part of Jersey's culture and heritage. We asked Sarah Matlock, the cider maker's wife, a bit about La Robeline's story.
Tell us a bit about La Robeline. How did it all start?
La Robeline Cider started in 2004 when Cider Maker, Richard Matlock, went to Normandy to learn how to make cider using traditional methods. A few weeks later, Richard went over to dismantle a 100 year old cider press from a Normandy barn and brought it back to Jersey where he restored it and rebuilt "Patricia the Press" in an old farm building at our house.
During the autumn and winter of 2005/2006, with the help of some friends, he made his first batch of cider which was launched at a party at Farm Fresh Organics in June 2006.
We hade made 1,000 bottles and sold out in six weeks. From then on, we have expanded each year, planting orchards each winter and incorporating various food trucks, built by Richard, so that we can serve food that compliments our cider and spirits at publics events and private parties.
You've blended, brewed and bottled a plethora of flavours. What products have you got fermenting on your brain for the future?
This year for the first time we made a sweet cider which has proved to be extremely popular. It was a pure fluke of nature – the summer of 2022 was very hot and dry so the apples didn't have much juice, but they were very sweet so the resultant cider was also sweet. We might try to blend specific apples to achieve the same result and, of course, we distil some of the cider each year to make our exceptionally smooth and appley L'Espirit d'Jerri (apple brandy).
We'd also like to make some more Pommin (an apple sherry) which is great paired with cheese and apple desserts. And, there are plans to bottle cider in smaller, more manageable 33cl bottle which will appeal to cafes, pubs and restaurants around the island – so lots of plans for the future!
As a lover of cider, what's your recommendation for some great ciders to enjoy?
All our ciders are made from local apples and nothing else. Richard and I are particularly enjoying the sweet cider which is available in 5 litre and 10 litre "Bag in Boxes" through our website.
In your opinion, what's the best place in the island to crack open a cold one in the sun?
The best place to enjoy our cider, in our opinion, if not at our home in St. Ouen is on the Five Mile Beach, watching the sun set over the water.
You might also like...