Jersey is more than just a picturesque destination; it's an enchanting journey through the tapestry of language, culture, and history. As you explore our charming island, you might notice our quirky road names and place monikers that seem to transport you to a far-off continent. But, what truly sets Jersey apart is its very own ancient language.
Allow us to introduce you to Geraint Jennings, a man whose role is nothing short of magical. Helping to preserve the legacy of our mother tongue – Jèrriais.
Geriant delves into the world of Jersey literary and linguistic treasures, breathing life into forgotten words and phrases and welcoming all to the weekly Société Jersiaise chat sessions, where people gather to immerse themselves in the island's rich linguistic heritage.
Intrigued? We caught up with Geraint to unravel the secrets of Jèrriais and discover what makes our little island a true gem to him.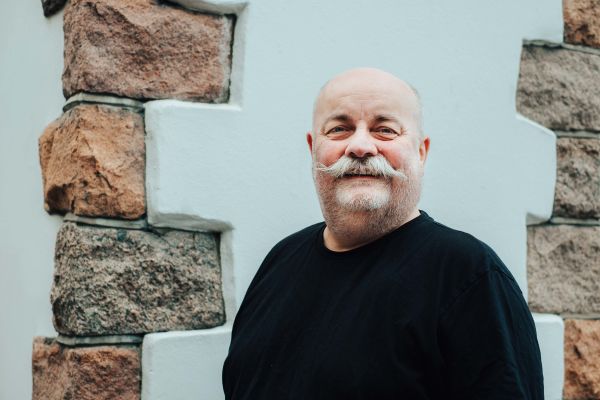 Introduce yourself and what you do.
Meet Geraint.
Man nom est Geraint Jennings – My name is Geraint Jennings and I work at Jersey Heritage as the Jèrriais Promotion Officer.
This means that I promote Jersey's own language, develop resources from our literary and linguistic heritage, animate weekly chat sessions so people can get together to speak or listen to Jèrriais and manage the Jèrriais dictionary database (adding new words and definitions, and sometimes old words that are rediscovered in old texts).
I also provide official Jèrriais translations for the Government of Jersey. As so much of Jersey's history and culture is written and recorded in Jèrriais, I also advise on Jersey's intangible cultural heritage: folklore, beliefs, recipes, traditions, stories, poems, and songs.
Tell us a little bit about Jersey's very own language.
Jèrriais is closely related to the languages of Guernsey and Sark (unfortunately the language of Alderney didn't survive the experience of occupation and evacuation during WWII), and also to the varieties of Norman language spoken in mainland Normandy. So, if you imagine the sort of language William the Conqueror would have spoken when we beat the English in 1066 and took our language to England, it's a descendant of that medieval tongue.
The Normans were originally Norsemen (Viking settlers) who left traces of Norse in the Latinate language of the people inhabiting the lands they colonised. Today, Jèrriais words of Norse origin can be seen in placenames such as "hougue" (mound), "bel" (yard) and "mielle" (dune).
Of course, over the centuries, Jèrriais has been influenced by contact with English, French, and other languages. And, as Jersey people have travelled and settled elsewhere, Jèrriais has been spoken and written in the furthest parts of the world.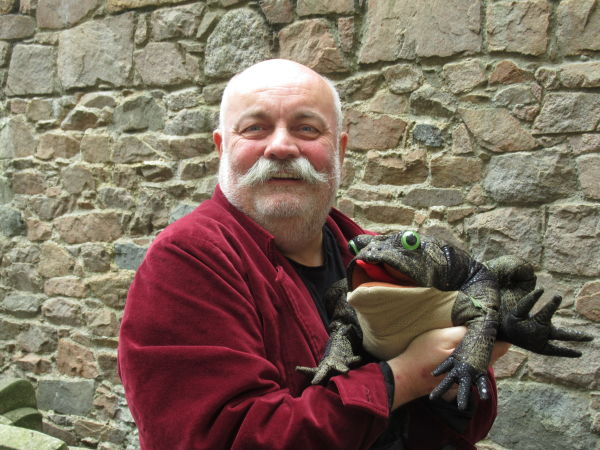 What's your favourite Jèrriais saying and what does it mean?
N'y'a comme sé sa c'mînse à laver = there's no one like oneself to wash one's shirt i.e. if you want a job done properly, do it yourself.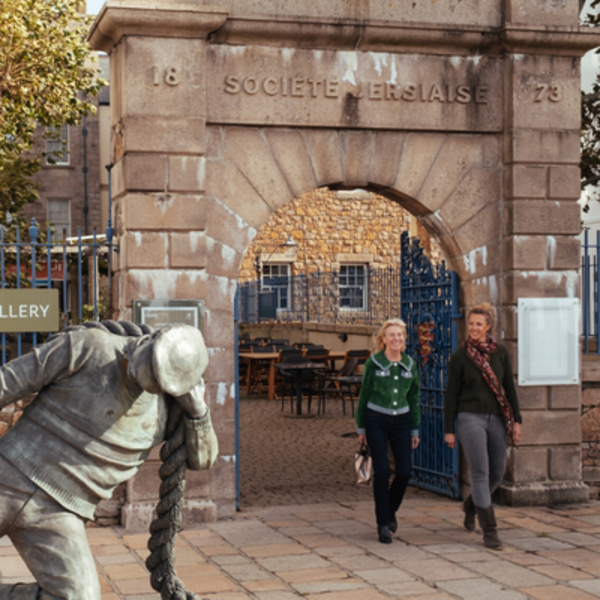 How can visitors keep an eye out for the language?
If you're spending money in Jersey, have a look at our trilingual banknotes. Keep an eye out for welcome signs and other public notices.
Look down at the pavement as you walk along La Banque (Conway Street) in St. Helier for the tide-related sayings.
Have a look at placenames and road names (just because a name has a Le or a La doesn't mean it's French!):
Grève = beach,
Clios (spelled in old fashioned spelling: clos) = field
Picachon = pointed piece of land
Rocque = rock.
And, feel free to eavesdrop on one of the weekly café or pub chat sessions.
What's your favourite way to unwind in Jersey?
There's nothing like cycling around Jersey. In just 20 minutes you get somewhere different and interesting, often via leafy lanes. It's easy to stop and look at a view or some hedgerow flowers and drop in to see a dolmen, a church, a lavoir or a pump. Say "Bouônjour" to some cows at a field entrance and perhaps see a squirrel scuttling as you pedal silently past.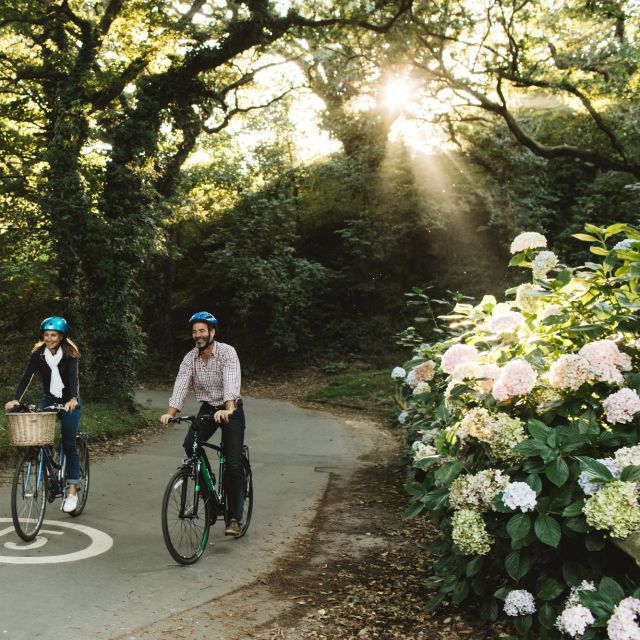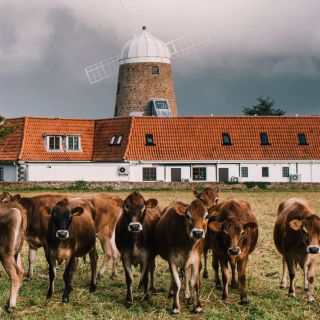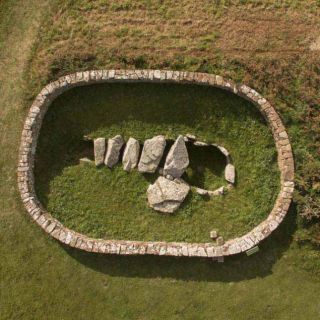 When friends and family are visiting I always make sure they visit...
My favourite place is La Pouquelaye d'Faldou, the Dolmen at Faldouet.
Although it's not the largest megalithic structure in Jersey (that's La Hougue Bie), the location is impressive. One can imagine as one gazes across the Cotentin coast that the builders of this monument must have been able to look across at Jersey from the coast opposite and feel that these stones, moved with such effort and guarding the sacred dead, were there on the headland on our special island.
Anyone who visits La Pouquelaye d'Faldou is also following in the famous footsteps of Victor Hugo, who wrote a poem on these stones.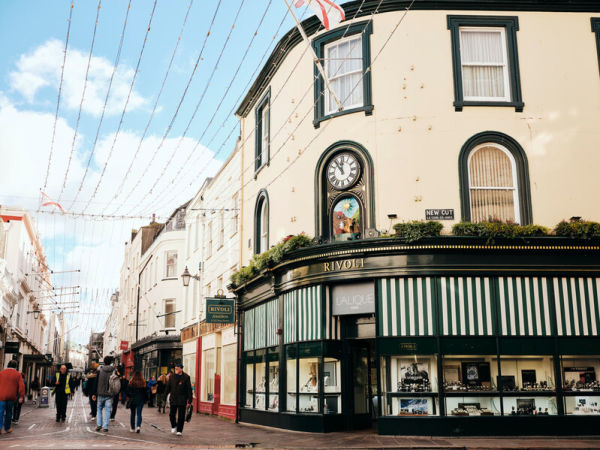 I always recommend a walk around the town ramparts of Fort Regent: historic fortifications that are free to visit and provide spectacular views across two coastlines. And, down into the town for a different perspective on the capital.
My other tip for visitors to St. Helier is to look up. Although there may be a lot of bustle, traffic, and modern commercial shopfronts at ground level, raise your eyes to older first and second storeys with traditional windows and mouldings, from farmhouse style to neo-gothic and art deco.
Look out for faces, castellations, rounded corners, quirky gables and even witches' stones!
You might also like...